After an exhausting day, a refreshing watermelon sweet-flavoured vape is simply an unparalleled experience! If you are also a watermelon enthusiast, we are destined to be pals!
As a professional vaper with 5-year vaping experience, I would say that the IGET Bar Watermelon series is worth the loyal fans to try!
Are you ready to join this adventure with watermelon flavour discovery? Follow me to experience the fantastic journey with IGET Bar watermelon flavours!
What is IGET Bar Watermelon Flavours
The watermelon flavour in this series brings a refreshing twist to the classic IGET Bar, enticing users with its irresistible sweetness and unparalleled flavour profile. Among the 31 IGET Bar Flavours, I'm obsessed with these 3 watermelon flavours:
Strawberry Watermelon Ice
Passion Fruit Watermelon Ice
Watermelon Mint Ice
When you vape these three flavours, you will experience a refreshing sweetness exploding in your mouth, followed by a chilly sensation hitting your throat, and finally, a light sweetness stays in your mouth for a while. With this revitalizing sensation, your mind can be awakened at the same time!
Whether you are a seasoned vaper or new to the vaping scene, the IGET Bar watermelons flavour series is guaranteed to transport your taste buds to a fruit-filled paradise.
Get ready to indulge in the sensational flavours of IGET Bar with this delightful watermelon edition.
3 Best IGET Bar Watermelon Flavours
Here is my rank for these 3 IGET Bar watermelon flavours.
Generally, the feeling of flavours depends on personal experience. As a result, my rank may not be suitable for every vaper, but just a reference description to help you choose.
Strawberry Watermelon Ice
Sweetness: ★★★★★
Coolness:★★★
Richness: ★★★
Passion Fruit Watermelon Ice
Sweetness: ★★★★
Coolness:★★★★
Richness: ★★★★★
Watermelon Mint Ice
Sweetness: ★★★
Coolness:★★★★★
Richness: ★★
Tips On How To Choose IGET Bar Watermelon Flavours
If you are a sweet tooth, Strawberry Watermelon Ice would be the best choice for you!
If you prefer a mixed fruit feast, Passion Fruit Watermelon Ice IGET Bar vape could provide you with the richest layers.
If you are seeking an extremely strong throat-hit vaping experience, there is no better choice than Watermelon Mint Ice.
If you want to feel pure watermelon, then Lush Vape is definitely for you!
Verdict
If you're someone who loves the watermelon flavours product or simply enjoys the sensation of its cool and refreshing taste, why not give the IGET Bar watermelon flavours series a try?
If you prefer more about raspberry, mango, passion fruit or cherry flavours, IGET Bar can also satisfy your demand! No matter whether you are an experienced vaper or just starting out, you'll find something to love in the IGET Bar's flavours series.
If you want to know more about IGET Bar flavours review or information about other IGET Vapes, please visit our official website: I GET Vape Online Shop.
FAQ
Does IGET Bar 3500 have nicotine?
IGET Bar offers 5% nicotine, which means 50mg in each ml of e-liquid.
In addition, IGET Bar also offers a nicotine-free version, meaning 0% nicotine in it.
What is the best flavour of IGET Bar?
The best flavour of IGET Bar is the Strawberry Watermelon Ice.
Is the IGET Bar safe to use?
Yes, the IGET Bar is safe to use in 3 criteria.
The IGET Bar's appearance materials are ISO certified, and the flavour additives are diacetyl-free.
And the IGET Bar comes pre-loaded with e-liquid and battery, eliminating the potential risks customers face when charging and loading their own e-liquid.
What is the cigarette equivalent to an IGET Bar?
The IGET Bar 3500 puffs are equivalent to 233 cigarettes in total because it is often regarded that 15 puffs equal 1 cigarette.
Related Blogs
The new IGET Bar flavours are coming on strong. Are you ready to choose the right IGET Bar for yourself? Follow me quickly to check it out!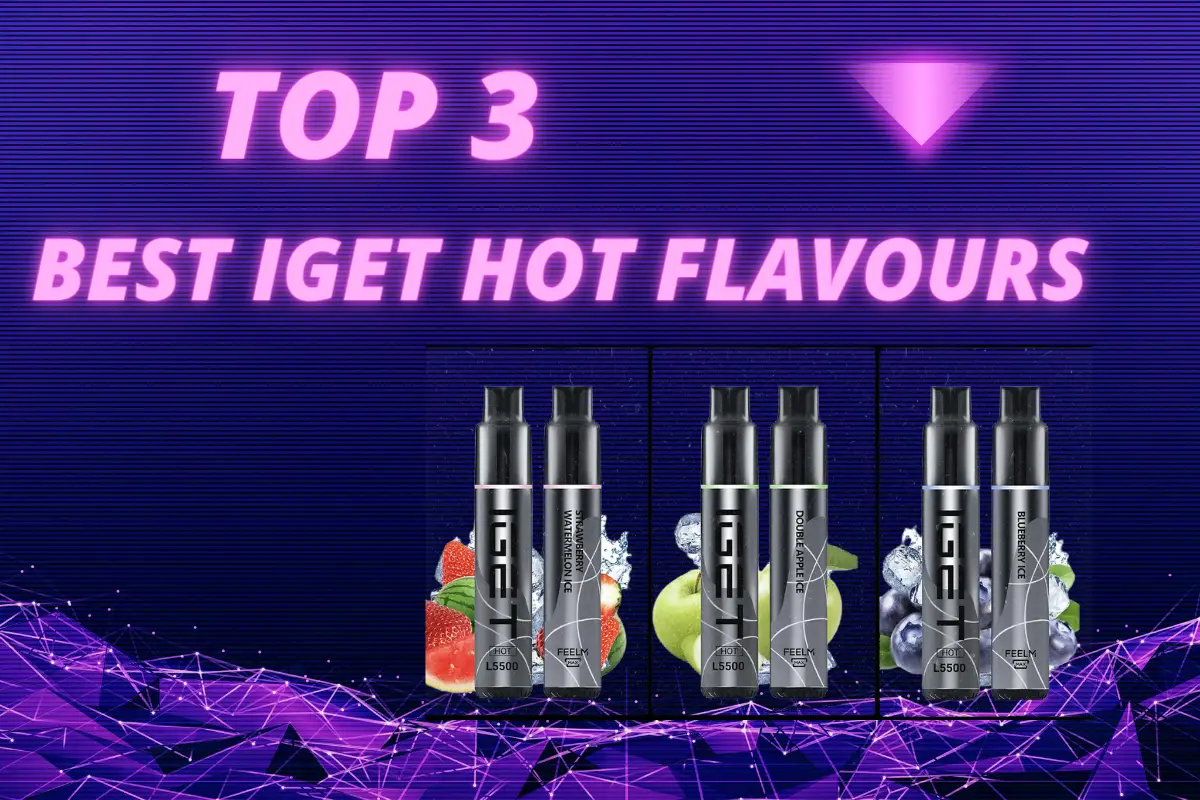 We've done the research and analyzed data from the IGET Vape online shop to provide you with the best IGET Hot flavours that customers love the most.
I'm gonna break down these top 3 flavours and give you all the juicy details. And I've put together a slick chart of the best IGET XXL flavours to illustrate it.