Quick Guide
While IGET Hot 5500 has received much acclaim, there has been some controversy about its ingredients. To make IGET Hot ingredients more clear to everyone, we've listed them all.
Flavouring
Nicotine
Propylene Glycol
Vegetable Glycerin
Glycerol
Benzoic acid
It is very crucial to understand the ingredients in the E-liquid for a safe vaping experience. So follow me to explore this article together!
Introduction
IGET Hot 5500 is a hot-selling product of the IGET series. Its high-end atomization technology, powerful battery life and delicious vape flavours can meet all our expectations of disposable vapes.
For a deeper understanding of IGET Hot Vape, let's go through its ingredients.
What Are The IGET Vape Ingredients?
The main IGET Vape ingredients are flavouring, nicotine, propylene glycol (PG), vegetable glycerin (VG), glycerol and benzoic acid. All of these ingredients work together to create a unique and delicious flavour.
About the percentage, propylene glycerol and vegetable glycerin account for 90%. Others only have 10%. PG and VG are the base of the e-liquid, usually coming in combination ratios.
6 Pivotal IGET Hot Ingredients – Have You Heard It Before?
Flavouring
A flavouring is defined as a substance that gives another substance a taste, altering the characteristics of the solute and causing it to become sweet, sour, tangy, etc.
In IGET Hot Vape, there are two types of flavouring, including natural and artificial flavouring. They are both food-grade.
Currently, IGET Hot L5500 is available in 13 flavours. Some of the best-selling flavours are Watermelon Ice and Blueberry Ice. Click to learn more about the latest and greatest discounts on IGET Vape Flavours!
Nicotine
Nicotine is often found in cigarettes. It is obtained from the tobacco plant. The IGET Hot 5500 nicotine content is 5%, which is moderate intensity. Generally, the higher the nicotine content is, the more throat hits you can get in a vape.
The role of nicotine in IGET Hot Vapes is:
Provide a throat hit and intense flavour.
The release of dopamine can ease anxiety and relieve the body.
If you want to know more about IGET Hots nicotine or other IGET No Nicotine vape, here are the related articles. You can have a look!
👉 IGET Hot Nicotine: 4 Surprising Facts You Should Know About It
👉 Is There 5% IGET Rock Vape Nicotine? Definitely Yes!
Propylene Glycol – PG
Propylene glycol, called PG, is a viscous, colourless liquid that is nearly odourless but possesses a faintly sweet taste. It is mainly used for food and drugs.
The functions of propylene glycol are:
Solvent, ensuring the ingredients mix together.
Humectant, avoiding the E-liquid drying out when exposed to air.
Additive, added to coffee-based drinks, liquid sweeteners, and ice cream.
Carrier for the E-liquid flavour or nicotine.
Smoke machine. When a mixture of propylene glycol and water vaporises, it creates the illusion of smoke.
Vegetable Glycerin – VG
Vegetable glycerin is a colourless, odourless, viscous liquid that is sweet-tasting and non-toxic. It can be obtained from plant and animal sources.
Typically, plant sources include soybeans or palm. Animal-derived tallow is another source. Vegetable glycerin applies to the food industry and personal care.
The functions include:
Humectant: keeping the E-liquid most.
Solvent: mixing all the ingredients.
Sweetener: adding sweetness to the IGET Vape Hot as a sugar substitute.
Preservative: allowing the E-liquid to store for a long time.
Food additives: adding to the icing prevents it from setting too hard.
Produce vape clouds.
Glycerol
Glycerol is similar to the vegetable glycerin. It is also called glycerin, a simple compound that can be obtained from plants and animals.
Functions:
Producing vapour thanks to its low freezing point.
Enhancing the throat hit.
Benzoic acid
Benzoic acid is a white or colourless solid organic compound derived from plants. It is cheap, readily available and produced commercially.
Nowadays, food-grade benzoic acid is produced synthetically. Benzoic acid can be used to make the nicotine salts in IGET Hot Vapes more absorbable.
Are The IGET Vape Hot Ingredients Safe?
Compared to cigarettes, IGET Hot ingredients contain fewer harmful chemicals.
Besides, each IGET vape product is accompanied by a TCT supplier Declaration of conformity, further ensuring their safety and quality.
All the proportions of the ingredients are carefully calculated and have been tested in a laboratory. We also conduct regular ingredient testing.
Verdict
In conclusion, knowing the 6 IGET Hot ingredients is our top concern and is closely related to our health.
Well, IGET Hots is a reliable vape. We can safely use the ingredients. At IGET Vape Australia, there are a lot of high-quality vapes waiting for you to choose from. Come on and pick your own favourite vape!
IGET Hot Ingredients: FAQ
How much nicotine is in a hot IGET?
IGET Hot nicotine content is 5% (50mg/ml), providing you with a strong throat hit.
Why is benzoic acid in Vapes?
Benzoic acid can be used to make the nicotine salts more absorbable and make the vapour smooth.
Related Blogs
IGET Legend has a total of 6 ingredients. Do you want to know the safety information of IGET Legend ingredients? Click and read now!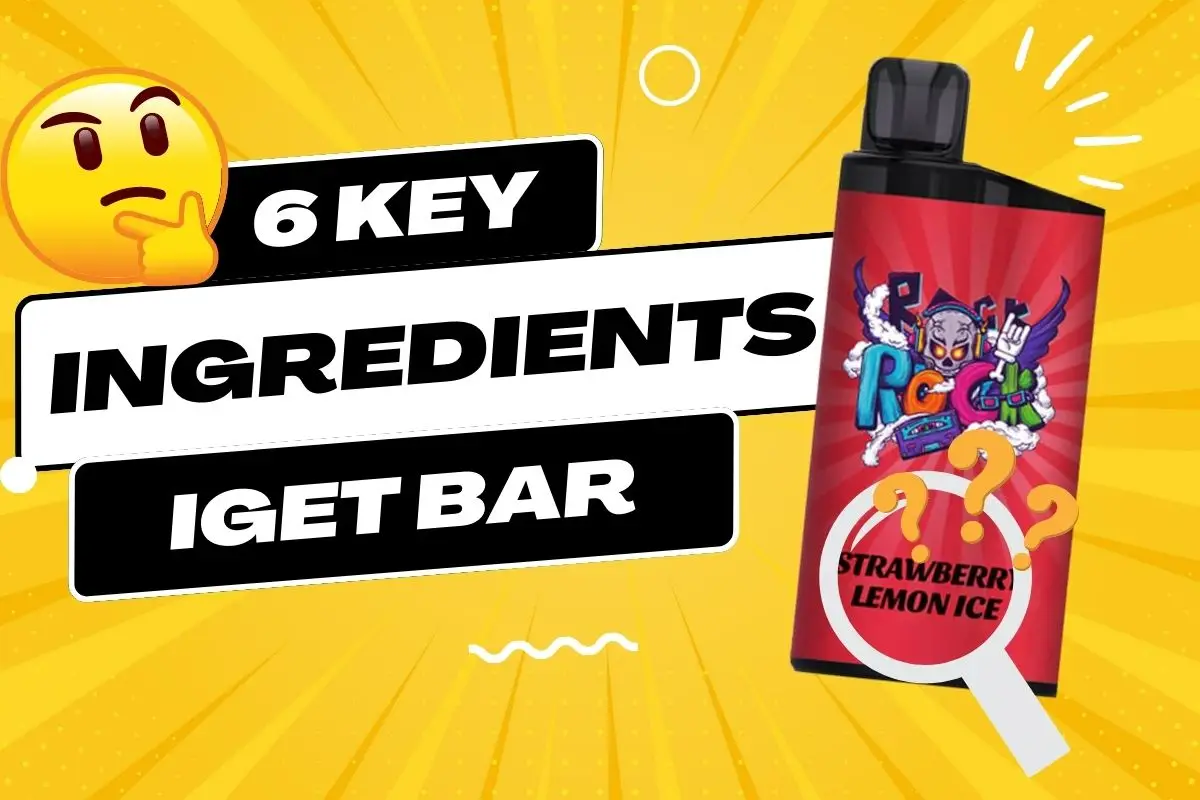 IGET has become a brand synonymous with quality vaping. There's one question, however, that's making rounds: "What's in the IGET Bar?" Today, we dive into the details to demystify the ingredients of your favourite vape.
What is in IGET B5000? There are 6 indispensable ingredients. Do you know what they are? If you want to know, please keep reading!