QUICK GUIDE
IGET King vs IGET Bar, In this highly anticipated and thrilling vape showdown, who will emerge victorious? Let me, the loyal fan with years of experience in IGET vapes tell you the answer. Here are the 6 key highlights of the IGET King and IGET Bar vape face-off:
Appearance Design
Nicotine Content
Throat Hit
Flavours
Puffs
Materials
Are you also excited for the start of this showdown? IGTE King vs IGET Bar, the battle begins, and join me to watch the excitement unfold!
Introduction
Recently, owning an IGET vape has become a new popular trend in Australia, leaving a lasting impression on vapers with its extreme vaping experience and stylish appeal.
Among them, the IGET King Australia, famous for its intense throat hit, and the IGET Bar, known as the "Flavour King," have caught people's attention. Everyone is curious, IGTE King vs IGET Bar, who will come out on top in the end?
This article will take you on a journey to explore the allure of both, examining the differences between the IGTE King and IGET Vape Bar and providing insights to aid in choosing the right vape.
What Is IGET Bar Vape?
IGET Bar Australia, this absolutely incomparable vape, comes with a whopping 1500mAh battery, providing you with long-lasting and powerful usage, enough to savour up to 3500 unique puffs.
Its clever 5% nicotine content ensures a satisfying experience, immersing you in distinct flavours and a comfortable throat hit. Wherever and whenever, you can indulge in pure and rich vapour, delivering an extraordinary sensation.
Specification
Size: 41.3mm x 21.3mm x 94.5mm
Weight: 78g
Puffs: Up to 3500 Puffs
Nicotine Content: 5% & 0%
E-liquid: 12ml
Coil: 1.2 Ohm
Battery: 1500mAh
Flavours: 30+
Material: PC+ALU
Features
The flavour king
Long-lasting vaping time
Superior battery capacity
Stylish design
Comfortable grip
What Is IGET King Vape?
IGET Kings offers an impressive 6% nicotine content, allowing you to indulge in a strong throat hit and satisfaction. In addition, the IGET King, who wants to be the king of vapes, also features a visualization tank so you can check the usage of your vape e-liquid at any time!
Specification
Size: 20.5mm x 20.5mm x 114.5mm
Weight: 42g
Puffs: 2600 Puffs
Nicotine Content: 6%
E-liquid: 8.5ml
Coil: 1.2 Ohm
Battery: 1400mAh
Flavours: 14+
Material: ALU+PCTG
Features
Strong throat hit
Portable disposable vape
The elegant and stylish shape
Lightweight and easy to carry
IGET King VS IGET Bar: Key Differences
Features
IGET King
IGET Bar
Material
ALU+PCTG
PC+ALU
Coil
1.2 Ohm
1.2 Ohm
Size
20.5mm x 20.5mm x 114.5mm
41.3mm x 21.3mm x 94.5mm
Weight
42g
78g
Puffs
2600 Puffs
3500 Puffs
E-Liquid
8.5ml
12ml
Battery
1400mAh
1500mAh
Flavours
14+
30+
Price
$29.99
$29.90
Nicotine Content
6%
5% & 0%
Pros
High-quality materials
Strong throat hit
Variety of flavours
Smooth flavours
High endurance
Comfortable grip
Cons
Fewer flavours
Low battery capacity
The throat hit is relatively weak
IGET King vs IGET Bar: Appearance Design
If you put the IGET Bar 3500 and the IGET King in front of you, you will be able to recognize the difference between the two at first glance by their appearance.
The IGET Vape Bar boasts a unique Box-shaped design, presenting a dazzling array of 30 vibrant colours, each representing 30 distinct flavours. It's not just the trendy appearance, it's about indulging in a diverse feast for your flavour buds. And with its perfectly curved exterior, the hand-feel is supremely comfortable, making you want to keep it in your grasp and savour every moment.
The IGET Kings exude regal sophistication with its sleek pen-shaped appearance and exquisite high-end black design. It's like holding a piece of art in your hand, showcasing your taste and distinguished status.
IGET King vs IGET Bar: Nicotine Content
IGET Bar nicotine level and IGET King nicotine level have become the most striking difference between them.
While the IGET Bar 3500 nicotine content is 5% and already immerses many vapers in rich nicotine vapour, the IGET King nicotine content is 6% has truly shaken the Australian vaping scene! It opens a new world for those nicotine enthusiasts who thirst for the ultimate nicotine vapour experience, like stepping into an unprecedented nicotine feast.
To cater to a wider range of vapers, IGET Vape Bar has also introduced a special 0% nicotine content version. Whether you're a vaper who prefers a strong nicotine experience or a user who prefers the pure flavour of no nicotine, the IGET 3500 has the perfect option.
IGET King vs IGET Bar: Throat Hit
The IGET King delivers a more intense throat hit than the IGET Bar, which can be attributed to two key factors: nicotine content and mouthpiece design.
Nicotine plays a vital role in generating the throat hit sensation, and higher nicotine content generally leads to a stronger throat hit. With a nicotine content as high as 6%, the King IGET offers a richer nicotine vapour, providing vapers with a more pronounced throat hit and a deeply satisfying experience, surpassing the IGET Bar's 5%.
The mouthpiece design also plays a crucial role in enhancing the throat hit sensation. The IGET King's optimized mouthpiece, featuring a flatter shape compared to the IGET Bar's, allows the vapour to concentrate more as it passes through, intensifying the sensation of stimulation and throat hit for the vaper.
Combining these two factors makes the King IGET an excellent choice for vapers looking for the ultimate throat hit. Of course, for vapers, throat hit preferences vary from person to person. Some may prefer the moderate throat hit of the 3500 IGET vapes, while others are more attracted to the powerful throat hit of the IGET King.
IGET King vs IGET Bar: Flavours
IGET Vape Bar has 30 mouth-watering flavour choices, while IGET King has only 14 delicious flavours. In this regard, IGET King vs IGET Bar, the latter clearly has a greater advantage.
Click to find out more about the latest and greatest discounts on IGET Bars Flavours!
IGET Bar Best Flavours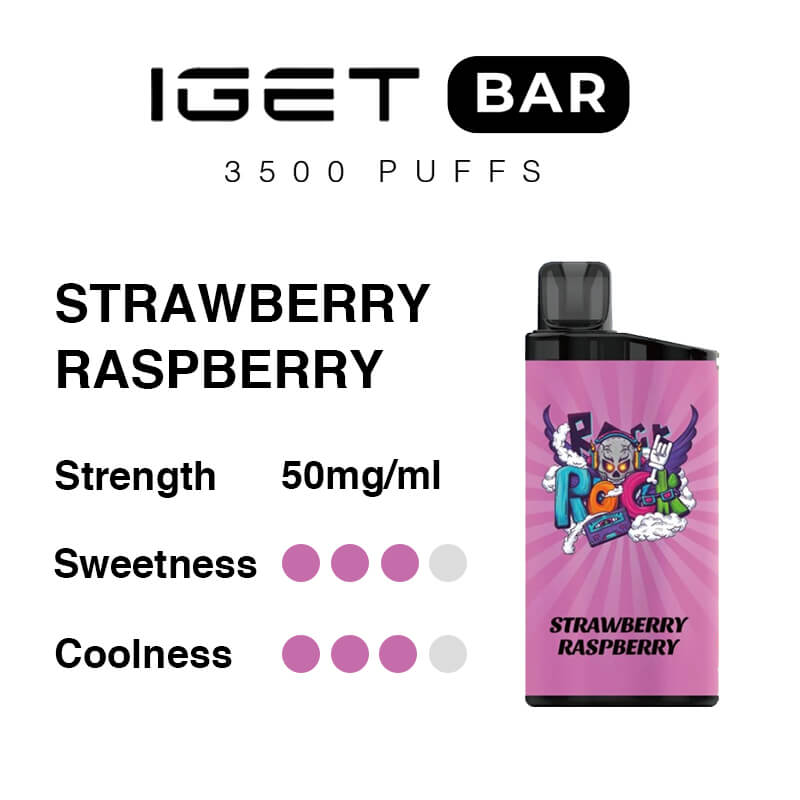 Strawberry Raspberry
– IGET Bar 3500 Puffs
Strawberry Raspberry IGET Bar is a delicious combination of two vibrant berries.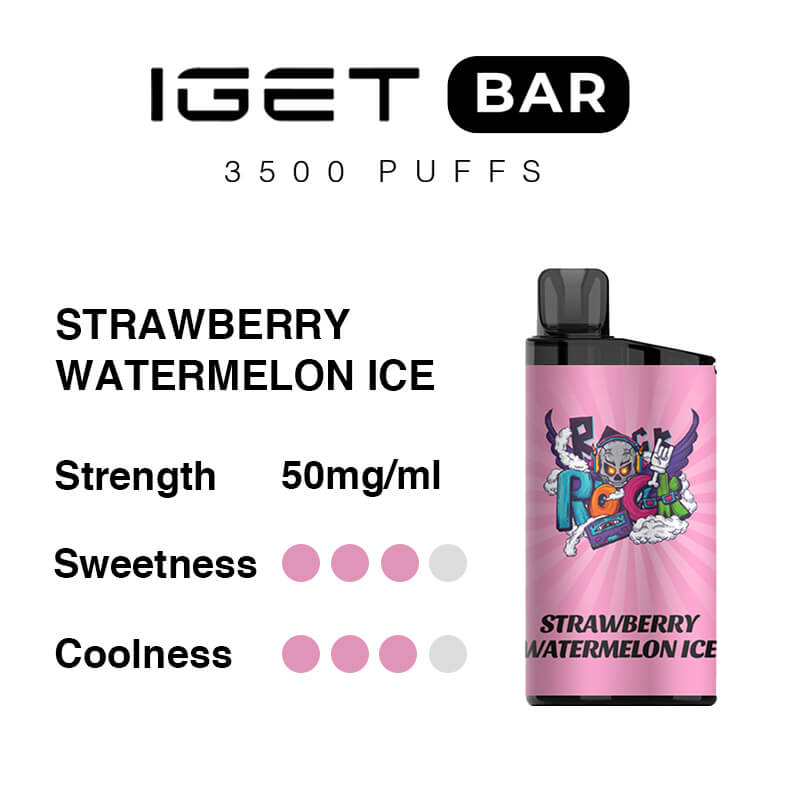 Strawberry Watermelon Ice
– IGET Bar 3500 Puffs
IGET Bar Strawberry Watermelon Vape combines the juicy sweetness of ripe strawberries with the crispness of watermelon.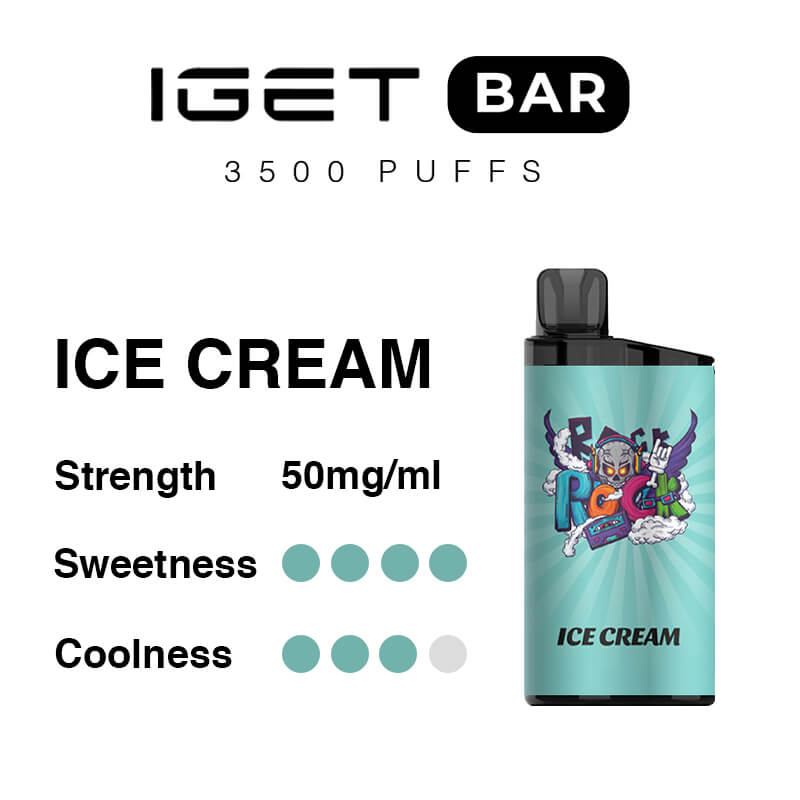 Ice Cream – IGET Bar 3500 Puffs
IGET Bar Ice Cream is a sumptuous indulgence delivering a creamy explosion
IGET King Best Flavours
Cool Peach flavour blends the refreshing flavour of peach with a cool sensation. Each puff brings a delightful and refreshing experience, making you feel like you're immersed in a summer garden.
Iced Grape flavour combines the sweetness of grapes with a refreshing icy sensation. Each puff brings a delightful grape flavour, just like savoring fresh grapes.
Lush Fruit
Pineapple Juice ice
Lush Fruit flavour blends a diverse array of fruit flavours to create a delightful sensation. Each puff is filled with the sweet and juicy flavour of fruits, making you feel like you're in an orchard.
Pineapple Juice Ice flavour blends fresh pineapple juice with a refreshing icy sensation. Each puff brings a delightful pineapple flavour.
IGET King vs IGET Bar: Puffs
With the dual advantage of battery capacity and e-liquid capacity, the IGET 3500 clearly takes the lead regarding puff quantity. IGET Bar puff's number is up to 3500 puffs, while IGET King puffs number is 2600 puffs.
The battery capacity determines the vaping device's endurance, and the stronger the endurance, the more puffs it can deliver. The IGET 3500 boasts a battery capacity 1500mAh, which is larger than the IGET King's 1400mAh. This means it can provide longer-lasting power support, allowing vapers to indulge in more consecutive puff experiences.
A larger e-liquid capacity typically means holding more e-liquid, providing more power for vaping. The IGET Bars have an e-liquid capacity of 12ml, while the IGET King has only 8.5ml. This e-liquid capacity difference makes the IGET 3500 shine brighter regarding puff quantity.
IGET King vs IGET Bar: Materials
In terms of materials, the IGET Bars adopt PC+ALU, while the IGET King uses ALU+PCTG. Both of them feature aluminium alloy (ALU), which makes their outer shell robust and durable. The main difference lies in the distinct characteristics of PC and PCTG materials.
The PC material makes the 3500 IGET vapes very heat and impact resistant, which allows it to remain stable in high-temperature environments and has excellent impact resistance.
The King IGET is made from PCTG material, which is a food-grade plastic with excellent chemical resistance and extensive food-grade approvals. This means the IGET King is manufactured from very safe material and will not adversely affect the user's health.
If you are interested in the health issues of IGET vapes, you can pay more attention to the ingredients of vapes. You will get detailed answers in this article, 6 Key IGET Bar Ingredients: Your Top Safety Concerns.
IGET King Vs IGET Bar: Which Is Better?
In the competition between IGET 3500 and IGET King, which vape is better depends on individual preferences and usage requirements. Each of them has unique advantages, catering to the different needs of users.
Considering the respective advantages of IGET Bar and IGET King, you can make your choice based on your own preferences and needs.
Can IGET Bar Replace IGET King?
Overall, the IGET Bar can be a complete replacement for the IGET King.
In terms of flavour selection, number of puffs, and usage time, the IGET 3500 has a considerable advantage. Although the IGET King is slightly ahead in terms of nicotine content and throat hit, the IGET Bar actually performs very well in these two areas as well.
As a result, 3500 IGET vapes are able to provide vapers with a more comprehensive and outstanding vaping experience that fully satisfies the user's Flavour needs. IGET Bar vs IGET King, the winner is the former.
👉 You are also interested in IGET Legend vs IGET Bar
Verdict
If you are struggling to choose which vape to go for, then my suggestion is the IGET Bar, which is really a favourite among vapers.
Stylish and colourful in appearance, lightweight to carry, with great battery life, and a wide variety of flavours to choose from, the IGET Bar allows vapers to be enthralled with each puff as if it were a journey of Flavours.
Don't hesitate to visit IGET Vape Australia to choose your favourite IGET Bar and take your vaping experience to a whole new level. Let's have a wonderful vaping experience together!
FAQ
Is there nicotine in IGET Bar?
Yes, IGET Bar nicotine percent has two types: 5% and 0%.
How much nicotine does a king vape have?
Each IGET King nicotine content is 6%.
What chemicals are in an IGET 3500?
There are six ingredients in the IGET Bar:
Nicotine
Flavour
Glycerol
Benzoic Acid
Propylene Glycol (PG)
Vegetable Glycerin (VG)
Is an IGET Bar rechargeable?
The IGET Bar is a disposable, high-performance vape that is not rechargeable. If you want to try a rechargeable vape, then the IGET Bar Plus is the best choice for you.
Are there any IGET Bar side effects?
Moderate vaping of IGET Bar will not cause side effects because all six ingredients of IGET Bar are relatively safe.
If you overdose on the Bar vape or if you are allergic to one of the IGET Bar ingredients, you may experience adverse reactions such as headaches, nausea, coughing and dry mouth.