Quick Guide
IGET vs Elf Bar, this is an unprecedented showdown. These two vapes have attracted many vaping enthusiasts with their respective features. As a seasoned vaper with 5 years of experience, I will delve into the ultimate battle between IGET Vapes and Elf Bar from the following 6 aspects:
Mission and Principle
Product Series
Service
Product Technology
Customer Reviews
Popular Series Comparison
Are you also excited about this showdown? Let's read on together!
Introduction
Undoubtedly, vaping enthusiasts must have heard of the two giants in the vaping world, IGET and Elf Bar. These two disposable vapes have quickly won over vapers of all ages with their stylish design, convenience, and high performance.
To cater to vapers' curiosity and desire to learn more about these excellent vapes, this article will analyse six aspects, including mission and principles, product series, customer service, product technology, customer reviews, and popular series comparison. IGET vs Elf Bar, this ultimate showdown is destined to be an exciting battle that cannot be missed!
IGET Overview
The IGET brand was founded in 2017, focusing on researching and producing vaping products.
As a leading brand in the Australian vape market, IGET lives up to the meaning behind its name, "I get it." Not only can vapers get high-quality vaping experiences but also IGET company itself gets recognition from approximately 90% of vapers in Australia.
As a professional brand specialising in vaping products, IGET continues to strengthen its position in the Australian vape market, dedicated to offering vapers better products and services.
ELF Bar Overview
Established in 2020, Elf Bar has quickly gained a reputation in the vape market with its outstanding design and performance.
Created through a collaboration between Vapeonly and Geekvape in Shenzhen, China, Elf Bar has become a well-known name among vapers worldwide, highlighting its widespread popularity.
Almost everyone in the vaping community has heard of the Elf Bar brand. It has successfully captured vapers' attention, making it a widely recognized and highly sought-after choice among vapers.
IGET Vs ELF Bar
Mission and Principle – IGET vs ELF Bar
IGET vs ELF Bar, It is important to first understand the missions and principles of both brands.
IGET
The mission of I GETs is to provide high-quality products and share advanced atomization technology.
IGET is committed to providing vapers with high-performance and safe vapes, ensuring all nicotine-free products comply with the TGO 110 product standard for products imported under the TGA's Personal Importation Scheme.
IGET's protection of minors is not emphasized on its official website, but every vaper who buys an IGET Vape can notice the obvious vaping age warning on the packaging of its vapes.
ELF Bar
Elf Bar is committed to providing people with smarter and safer vapes. Its unique product concept revolves around the spirit of exploration, dedicated to exploring and innovating vapes from customers' perspectives to deliver an exceptional vaping experience.
Moreover, Elf Bar's Lighthouse guardian program consistently focuses on caring for the health of adolescents and combating underage vape use, aiming to protect minors from the potential risks associated with vaping.
Product Series – IGET vs ELF Bar
IGET vs ELF Bar, as far as product series, ELF Bar seems to have the edge.
IGET has 20 product series, whereas Elf Bar boasts a wider range with a total of 23 series. Below are the product series lists for both brands, and you might find your frequently used series among them.
IGET Series List
IGET Star L7000
IGET Moon K5000
IGET Pro
IGET Box
IGET King
IGET Mega
IGET Plus
IGET Shion
IGET Nova
NoVa-Pod
IGET Janna
IGET Dual
ELF Bar Series List
ELFBAR 600V2
ELFBAR LOWIT
ELFBAR ELFA
ELFBAR MATE500
ELFBAR P1
ELFBAR PI7000
ELFBAR CR5000
ELFBAR CIGALIKE
ELFBAR BC3000/3500/4000
ELFBAR BC5000 ULTRA
ELFBAR BC5000
ELFBAR TE5000
ELFBAR HOOKAH TE5000
ELFBAR 600
ELFBAR LB5000
ELFBAR BC1600/2000
ELFBAR NC600
ELFBAR T600/T800
ELFBAR 2500/3500
ELFBAR 2000
ELFBAR NC1800
ELFBAR Lux
ELFBAR 800/1500
Service – IGET vs ELF Bar
When it comes to the services of IGET shop and Elf Bar, both are commendable as they offer premium and diverse product services, providing vapers with exceptional vaping flavours while also paying attention to the overall user experience throughout the buying process.
IGET
You can verify the authenticity of the IGET Vape by sending an email to the customer service team. If you find it inconvenient to contact customer service, you can also use your phone to scan the QR code on the IGET Vape packaging for self-verification.
If you happen to be interested in verifying the authenticity of an IGET Vape, I recommend you can read this article How To Verify Fake IGET Bar: 3 Factors Spoting Fake IGET Bar, to gain a more in-depth understanding.
IGET has created a dedicated blog section for vapers, with articles written by professional and experienced vapers.
You can find the answers about the flavours of the various series of IGET, the problems that have arisen with each series and so on. It is clear that IGET is committed to solving all possible problems for vapers.
IGET also provides a prescription application service. It must be said that this service saves many vapers a lot of hassle.
In many places, buying and using vapes requires obtaining a doctor's prescription. With IGET's Prescription application service, you can save a significant amount of time and effort. Simply click on the Prescription Application on the official website, and in just three simple steps, you can obtain a doctor's nicotine prescription.
If the application is not approved, you will receive a refund, so there's no need to worry.
IGET's order tracking service is truly commendable. Without the need to contact customer service, you can simply enter your order ID and billing email on the order tracking page to immediately get the logistics information for your product.
IGET holds one of its significant events, the product launch conference, with the aim to provide vape enthusiasts with a deeper understanding of the essence of the IGET brand and its product features and functionalities.
During these conferences, the professional team from IGTE works diligently to engage with customers, listen to their feedback, and gain insights into their needs.
This invaluable interaction allows IGET to continuously improve its products and provide better services, ultimately enhancing the overall vaping experience for its valued customers.
ELF Bar
ELF Bar has always been advocating for vapers to support authentic products and fight against counterfeit goods.
To provide vapers with a genuine and safe vaping experience, ELF Bar not only offers a dedicated channel for consumers to report counterfeit products but also provides a product verification service.
The verification process is very simple. Please locate the authentication label, then scan the QR code or enter your security code to verify.
Similarly, IGET has also established a blog section to provide more information about vapes for vapers. However, in this regard, it is evident that IGET has an edge. You can clearly see that ELF Bar's blog articles are currently relatively limited in comparison.
ELF Bar's comprehensive after-sales service provides reassurance to consumers.
If you have any questions or concerns about the product, you can email professional customer service for assistance.
In case of unexpected issues like product damage, you can file a warranty claim.
If you buy counterfeit ELF Bar from unofficial channels, you can report the counterfeit.
For those who prefer human assistance, English customer service is available on weekdays, Monday to Friday, and ready to take your call.
ELF Bar has specially created the ELFBAR Community, allowing vape enthusiasts to freely discuss topics related to ELF Bar vapes, such as appearance and performance. Currently, the ELF Bar community has more than 30,000 enthusiastic fans engaging in lively discussions.
Product Technology – IGET vs ELF Bar
IGET vs ELF Bar, their respective product technologies, are the highlights of this showdown.
IGET
IGET has always been dedicated to continuous improvement and innovation in product technology. An excellent example is the newly released IGET Hot, which boasts high-quality ceramic coils. This advanced technology enhances the speed and efficiency of vaporization and significantly reduces residue in the mouth, providing a cleaner and more enjoyable vaping experience.
Moreover, IGET HOT sets itself apart from other vapes with its smaller particle size, resulting in a smoother and more refined vapour. Additionally, the extended flavour retention ensures that vapers can savour the delightful flavour for longer, making it a standout choice among vaping enthusiasts.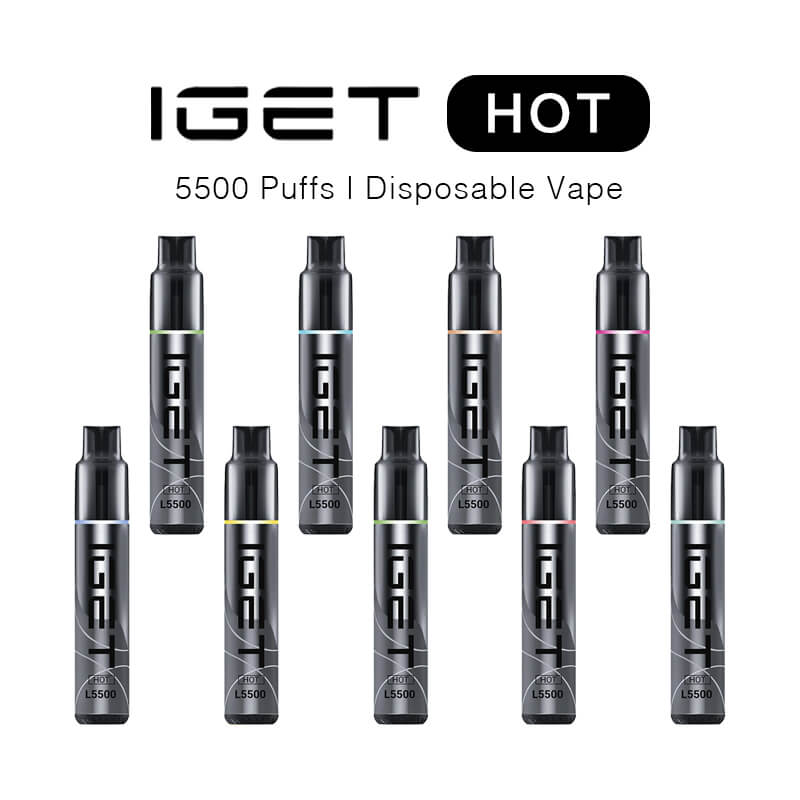 IGET Hot 5500 Puffs
Enjoy the convenience of the IGET Hot Vape with its long battery life and wide range of vaping volumes, allowing you to indulge in smooth and consistent vapour production.
ELF Bar
ELF Bar's use of Quark technology is truly impressive. Applying high-precision technology to create mesh coils, coupled with the upgraded 0.02Ω resistance, results in a remarkable increase in puffs, vaporization efficiency, and flavour longevity.
Incorporating Environmentally Antibacterial Non-woven Fabrics showcases ELF's technical prowess and commitment to environmental sustainability.
Moreover, ELF Bar's dedication to safety is evident through the use of German food-grade SUS304 materials and food-grade Silicone materials, which significantly enhance the product's overall safety.
Customer Reviews – IGET vs ELF Bar
IGET
Ken Co
Customer
Great product and quick delivery
17 hours ago
Anonymous
Customer
Such an easy dealing! And great flavours
20 hours ago
Anonymous
Customer
Very happy with the quick easy service
2 days ago
ELF Bar
Awesome
Its variety of flavours and massive puff count make it a top choice for vapers.
Terrific
The high-quality design of the ELF Bar will always appeal to me!
Excellent
As a vapour enthusiast, I really can't live without the ELF Bar.
Popular Series Comparison – IGET vs ELF Bar
IGET vs ELF Bar, of course, you can't miss the comparison of their popular collections series!
IGET Bar 3500 and ELF Bar BC 5000 are among the most popular IGET Bar and ELF Bar series, respectively. The differences between them are also a focal point of interest for many vapers. Now, let's begin the comparative analysis of these two series to provide you with buying insights.
IGET Bar 3500
The IGET Bar is one of the most popular series in IGET, boasting a variety of delightful vape flavours IGET Bars and a generous capacity of 3500 Puffs, making it a reliable option for when needed.
Design: Box-Mod style
Size: 41.3mm x 21.3mm x 94.5mm
Puffs: 3500 Puffs
Nicotine Content: 5% & 0%
E-liquid: 12ml
Battery: 1500mAh
Flavours: 30+
Material: PC+ALU
Rechargeable: No
ELF Bar BC5000
The ELF Bar BC5000 is the hottest series of ELF Bars and is the perfect comparison to the IGET Bars.
"Small Box, Big Power!" With its compact size, it's hard to imagine that the ELF Bar BC 5000 can carry such a large number of 5000 Puffs. At the same time, it can provide you with rich Bar flavours from start to finish, thanks to its advanced dual-coil design.
Design: Box-Mod style
Size: 79mm × 41mm × 19 mm
Puffs: Up to 5000 Puffs
Nicotine Content: 0%/3%/5%
E-liquid: 13ml
Battery: 650 mAh
Flavours: 67+
Material: PCTG
Rechargeable: Yes
IGET vs ELF Bar
IGET Bar 3500 vs ELF Bar BC5000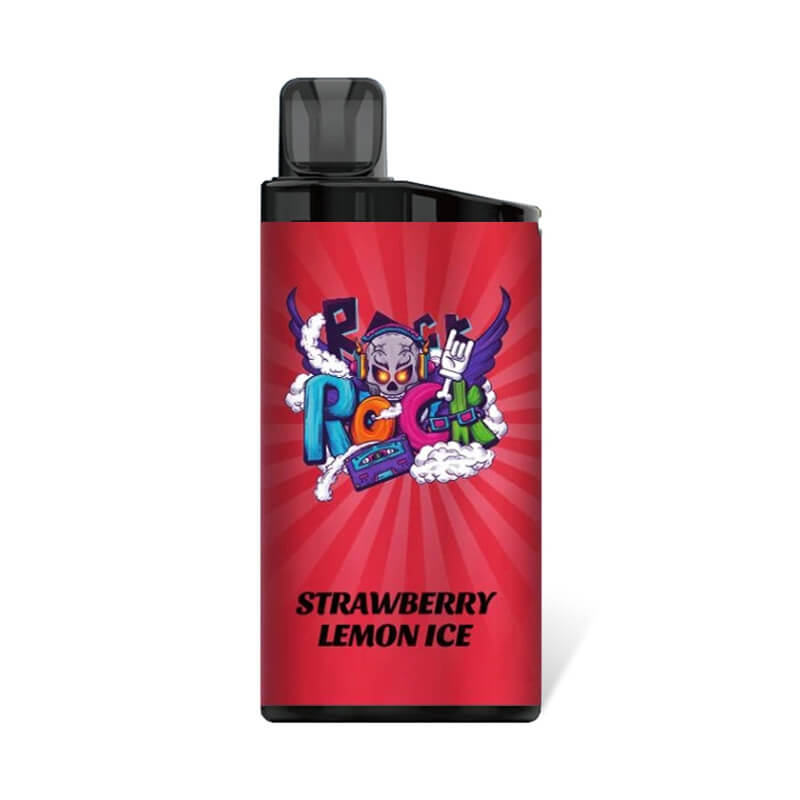 Puffs
3500 puffs vs 5000 puffs
Battery
1500mAh vs 650 mAh
IGET Bar 3500 vs ELF Bar BC5000: Appearance
The Bar vape boasts a unique Box-mod design with a curved shape that perfectly aligns with the natural contour of the hand, providing an exceptionally comfortable grip.
The iconic cartoon character of I GET Bar is prominently displayed at the centre of the Vape, featuring colours corresponding to the delightful IGET Bar flavours showcased on the front. With a variety of 30 vibrant colours, each represents a different captivating flavour that will delight your senses.
ELF Bar BC5000's design is inspired by the renowned ELEAF iCare device, both coming from the same reputable manufacturer.
Its distinctive appearance features a soft, matte body complemented by a glossy plastic mouthpiece and base. The soft-touch part incorporates a dual-colour gradient, which reflects the flavours within ELF Bar. For instance, the Strawberry Banana flavour has a casing that transitions from red to yellow.
To avoid any confusion due to similar colours, you can always refer to the prominent flavour labels printed on the casing.
IGET Bar 3500 vs ELF Bar BC5000: Flavours
Indeed, Bar Vape is considered the flavour champion in the IGET Vape, offering an impressive selection of 30 delightful flavours. However, compared to ELF Bar BC5000's extensive range of 67 flavours, it may appear to have a slightly smaller variety.
Cola Ice
Blackberry Pomegranate Cherry Ice
Kiwi Pineapple Ice
Raspberry Grape
Watermelon Mint Ice
Passion Fruit Kiwi Guava
Melon Ice
Pineapple Ice
Strawberry lemon Ice
Orange Mango Pineapple Ice
Mixed Berry
Passion Fruit Watermelon Ice
Cherry Blueberry
Blackberry Raspberry Lemon
Ice Cream
Passion Fruit Mango Lime
Peach Ice
Mango Ice
Blueberry Ice
Banana Ice
Strawberry Raspberry
Strawberry Kiwi Ice
Grape Ice
Blueberry Raspberry
Cherry Pomegranate
Lush Ice
Blackberry Ice
Double Apple
Strawberry Watermelon Ice
Banana Pomegranate Cherry Ice
The best vape flavours IGET Bar are divided into 5 kinds, which are Strawberry Raspberry flavour, Strawberry Watermelon Ice flavour, Ice Cream flavour, Blackberry Ice flavour and Grape Ice flavour.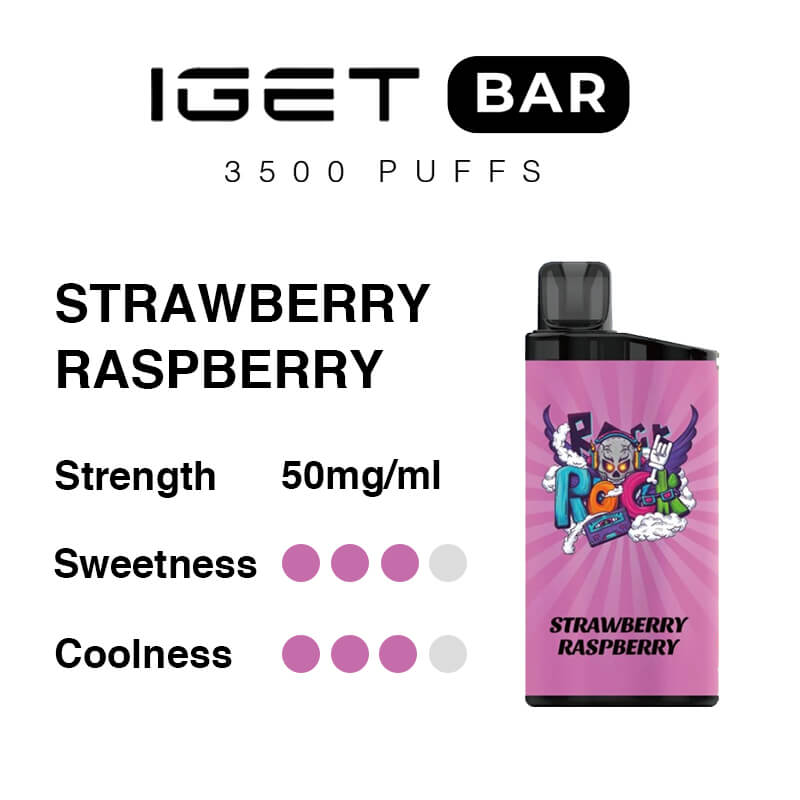 Strawberry Raspberry – IGET Bar 3500 Puffs
Strawberry Raspberry IGET Bar is a delicious combination of two vibrant berries.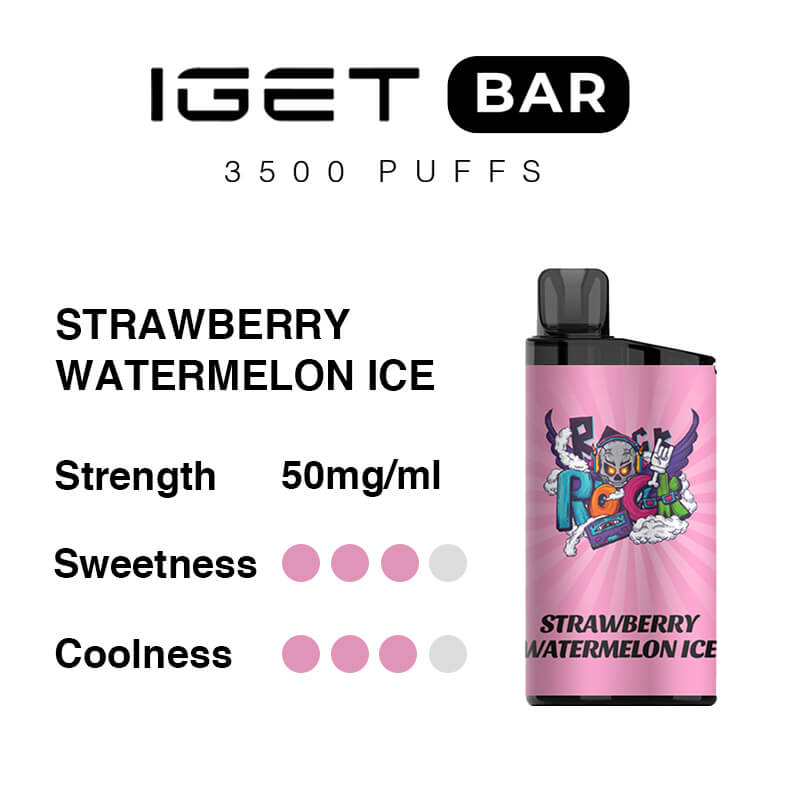 Strawberry Watermelon Ice – IGET Bar 3500 Puffs
IGET Bar Strawberry Watermelon Vape combines the juicy sweetness of ripe strawberries with the crispness of watermelon.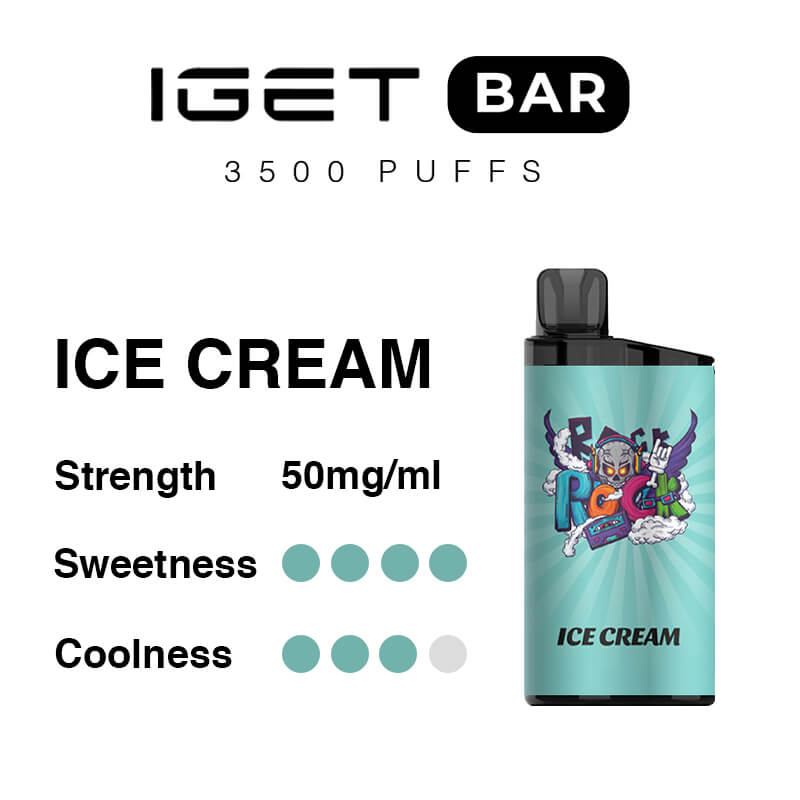 Ice Cream – IGET Bar 3500 Puffs
IGET Bar Ice Cream is a sumptuous indulgence delivering a creamy explosion.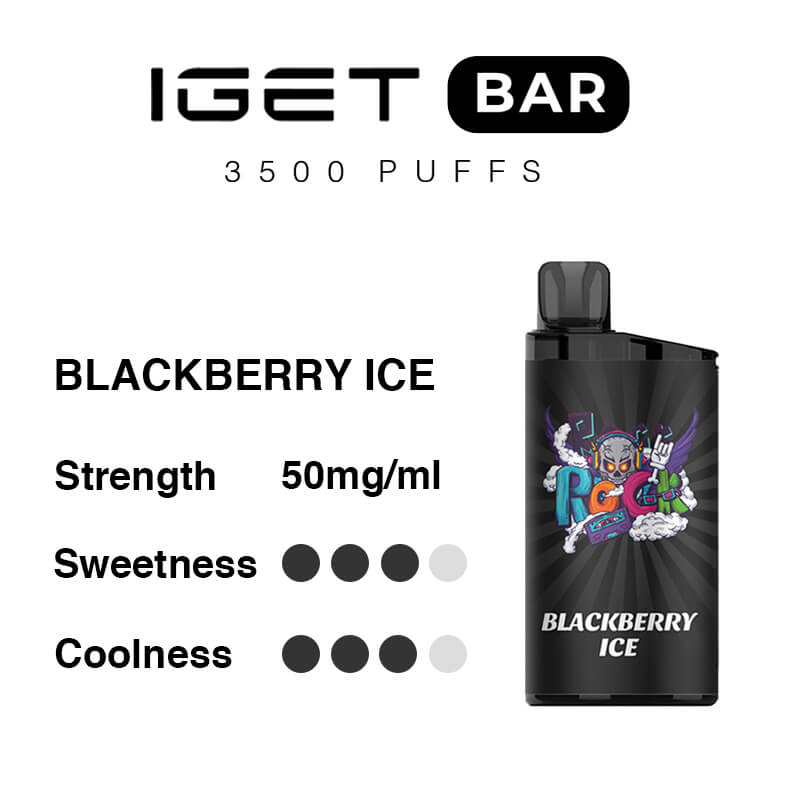 Blackberry Ice – IGET Bar 3500 Puffs
The Blackberry Ice IGET Bar combines the juicy sweetness of ripe blackberries with a cool, icy feel.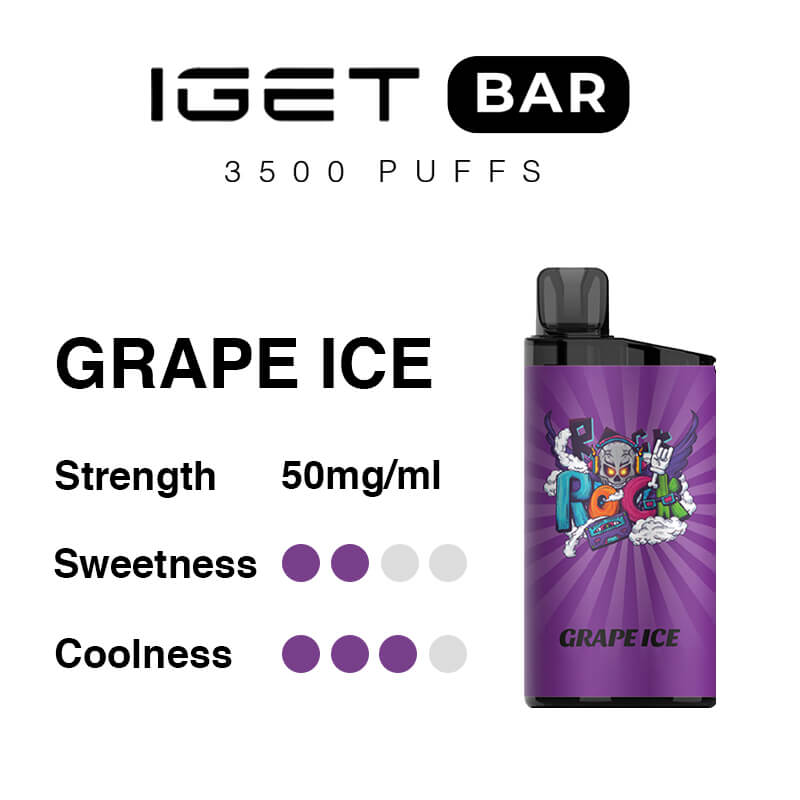 Grape Ice – IGET Bar 3500 Puffs
IGET Bar Grape Ice flavour is the hottest sale flavour, with a classic grape and a refreshing flavour that makes it taste unbeatable.
Of course, the above best IGET Bar flavours are for reference only. The flavours you like are the best flavours. You can also find your best flavour among more new IGET Bar flavours.
Strazz
Pineapple Strawnana
Strawberry Pina Coloda
Rainbow Candy
Mango Peach
Pineapple Coconut Ice
Sour Cdy
Malaysian Mango
Black Ice
Watermelon Cantaloupe Honeydew
Peach Berry
Fanta Strawberry
Gumi
Cranberry Grape
Lemon Mint
Honeydew Pineapple Orange
White Gummy
Energy
Sunset
Mango Peach Apricot
Strawberry Banana
Cuba Cigar
Miami Mint
Mint Tobacco
Grape Rush
Grape Energy
Kiwi Dragon Berry
Tropical Rainbow Blast
Sour Candy
Malibu
Peach Ice
Summer Peach Ice
Strawberry Dream
Summertime
Triple Berry
Watermelon
Blue Raspberry
Grape
Blue razz Ice
Mint
Strawberry Cream
Mandarin lime
Cotton Candy
Clear
Blue Razz Lemon
Blue Mint
Strawberry Watermelon
Fuji Ice
Strawberry Raspberry
Red Apple Ice
Passion Fruit Orange Guava
Strawberry Ice
Blueberry Energize
Guava Ice
Green Apple
Rainbow Cloudz
Watermelon Bubble Gum
Tripple Berry Ice
Sweet Menthol
Sour Apple
Watermelon Ice
Strawberry Kiwi
Sakura Grape
Red Mojito
Kiwi Passion Fruit Guava
Peach Mango Watermelon
Strawberry Mango
Watermelon Ice
Blue Razz Ice
Strawberry Kiwi
Strawberry Mango
Watermelon Bubble Gum
Strazz
IGET Bar 3500 vs ELF Bar BC5000: Coil
Vape Bar features a single coil type, meaning it has only one heating wire to heat the e-liquid and produce vapour.
The ELF Bar BC5000 has an upgraded dual-coil design featuring two independent heating wires that increase the heating area and efficiency. This allows the ELF Bar BC5000 to heat more e-liquid and produce more vapour in the same amount of time compared to the I GET Bars.
In general, the IGET Vape Bar, with its single-coil configuration, has a lower heating efficiency and generates relatively less vapour, making it more suitable for vapers who seek a stronger throat hit. The ELF Bar BC5000, with its dual-coil configuration, has a faster heating efficiency and produces more vapour, making it a better choice for vapers who prefer larger clouds of vapour.
IGET Bar 3500 vs ELF Bar BC5000: Battery & Recharging
In terms of battery capacity, the IGET Bar has 1500mAh, while the ELF Bar BC5000 only has 650mAh. However, in terms of charging, the IGET Vape Bar is not rechargeable, while the ELF Bar BC5000 is rechargeable.
IGET Bars have a larger battery capacity, providing a longer-lasting vaping experience without the need to replace batteries. On the other hand, ELF Bar BC5000's rechargeable feature allows users to conveniently charge the device when the battery is depleted, making it a more sustainable and environmentally friendly choice.
When making a choice between the two, vapers may consider their preference for the longer battery life of IGET Bar or the convenience of recharging with ELF Bar BC5000.
IGET Bar 3500 vs ELF Bar BC5000: Nicotine Content
In regards to nicotine content, IGET Bar offers two options, 5% and 0%. Meanwhile, the ELF Bar BC5000 expands on these choices by providing an additional option with 3% nicotine content.
ELF Bar BC5000 takes the lead in terms of nicotine content, offering an extra option between 5% and 0%. This option is ideal for those who have moved beyond the beginner stage but want to try a higher nicotine content that lies between the two standard choices.
IGET Bar 3500 vs ELF Bar BC5000: Puffs
IGET Bar offers approximately 3500 Puffs, while ELF Bar BC5000 provides around 5000 Puffs. This difference is mainly attributed to their e-liquid capacities. IGET Bar has a capacity of 12ml, whereas ELF Bar BC5000 boasts a larger 13ml e-liquid capacity, allowing for more Puffs.
Additionally, ELF Bar BC5000's dual-coil technology contributes to its higher efficiency in vaporization, further adding to the increased number of Puffs.
However, the actual number of Puffs can vary depending on individual vaping habits. If some vapers use vape frequently or take longer draws per puff, the total Puffs count may be reduced.
IGET Bar 3500 vs ELF Bar BC5000: Material
In terms of materials, IGET Bar adopts PC material with excellent heat and corrosion resistance, combined with lightweight and stylish aluminium (ALU) as part of its outer casing design. This combination gives IGET Bar a robust and durable characteristic while also showcasing a sense of fashion and sophistication.
ELF Bar BC5000 uses PCTG, a high-stability food-grade material that helps preserve the original flavour of the e-liquid.
Verdict
That's all the detailed analysis and comparison of IGET and ELF Bar. If you ask me, "IGET vs ELF Bar, who wins?" My answer is whichever vape better suits your needs is the winner!
If you want to further explore the knowledge and content of vapes, IGET Vapes Australia provides valuable resources. Through this platform, you can access more useful information, learn about the latest vapes and technologies, buy a perfect vape and enjoy a better vaping experience!
IGET Vs ELF Bar: FAQ
Are ELF Bars the strongest nicotine?
ELF Bar vape strengths are available at 0%, 3% and 5% nicotine content.
The 5% nicotine content is something that many vapes have. For example, the IGET brand also has 5% nicotine content. Therefore it cannot be said that the ELF Bar has the strongest nicotine content.
Are ELF Bars a better vape?
ELF Bar is indeed a excellent vape brand, but whether it is a better vape or not needs to be analyzed on a case-by-case basis. The fact is that a vape that meets your needs is a better vape.
What disposable vape is better than Elf Bar?
IGET, like ELF Bar, is a very good disposable vape brand.
In a comparison of two popular series, the IGET Bar 3500 and the ELF Bar BC5000, the former is slightly better in terms of battery capacity and convenience.
However, the answer to which disposable vape is better depends more on your needs.
Are ELF Bars healthier than vapes?
The Elf Bars are considered 95% safer than traditional cigarettes.
From an vape ingredient standpoint, the ELF Bar is similar to other vapes in terms of healthiness. However, as a leading brand of vapes, ELF Bar does seem to be more trustworthy when it comes to the use of materials and other aspects compared to other lesser known brands.
Related Blogs
To find the best IGET Bar Plus flavours, I analyzed survey rankings and sales data. The best flavours among vapers were those that ranked highly in both areas.
Want to buy an IGET Hot Vape but have trouble choosing flavours? Here is the most complete list of IGET Hot flavours written by a 5-year experienced vaper.
The new IGET Legend flavours are coming! Want to know what kind of flavour feast IGET Legend has created for you? Click and read on!