IGET B5000 Review: Quick Guide
Are you planning to learn about IGET B5000, a rechargeable and smooth vapour vape? If so, the IGET B5000 review will take you through a comprehensive look at this vape, which quickly attracted the attention of the majority of vapers with rechargeable.
The biggest improvement, rechargeability, coupled with improvements in atomization technology and other aspects, have made it make big waves in the Australian vaping scene. It will be a good choice if you want to try the best device of vape.
Now, let me take you on a journey of discovery with IGET B5000!
Basic Information About IGET B5000(IGET Rock)
Appearance and design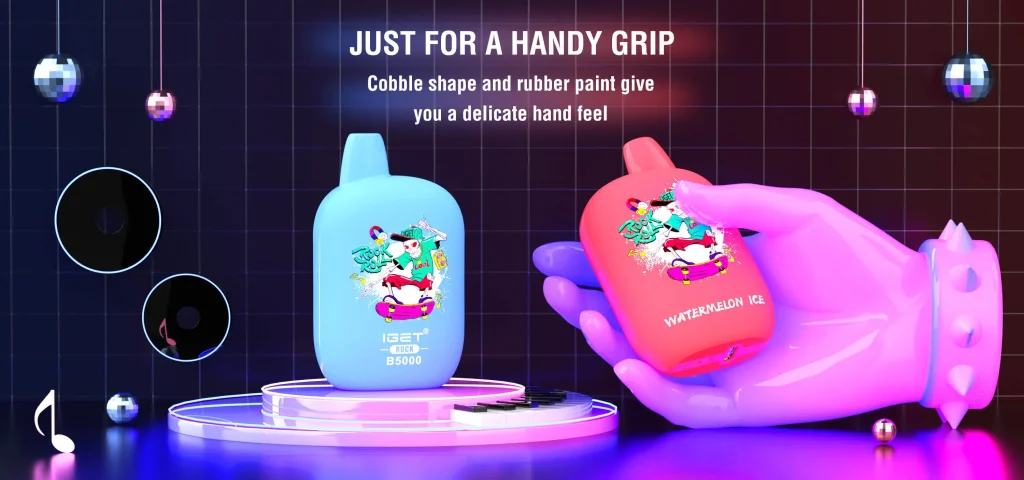 IGET newest product, IGET B5000, also known as IGET Rock Vape or IGET Rock B5000, IGET B5000 has made an eye-catching design and performance, and its outstanding appearance has attracted the public's attention.
The shape and design of the IGET B5000 are really worth mentioning this time. This series of products is a real eye-catcher from the feel, visual and then the vapour-cooled design.
The cobble shape and rubber paint give you a delicate frosted feel, which is a very different feeling from the cold aluminium casing of the IGET Bar.
The 13 bright colours of IGET Rock B5000 are very popular among vapers, especially young vapers. Many of them started to match different colours of vape with different clothes, which started to become a new fashion trend.
IGET Vape B5000 has a large following of vapers looking for a big smoke. Vapers don't have to worry about airflow being blocked from entering the vape. Outside air will enter the vape evenly, which helps cool the vapour and create more vapour, resulting in a smoother mouth feel.
IGET B5000 Review: Specifications
The specifications of IGET B5000 Australia have been improved and enhanced in many aspects, which is a major reason why vapers love it. The following is the basic specification information about the IGET Vape B5000:
Size: 26*48*79mm
Puffs: 5000
E-liquid: 10mL juice
Battery: 550mAh
Charging Method: Type-c Rechargeable
Nicotine: 5%(50mg/ml)
Weight: 49g
Flavour: 10 flavours
Material: PCTG1501
Pros and Cons of IGET Rock B5000
POSITIVES
Rechargeable vape

Long usable time

Safer and more heat-resistant materials

Enhanced atomization technology

Maintain the flavour of each puff
NEGATIVES
Some flavours are too sour

It needs to be charged every once in a while
Considerations For IGET B5000
Before you buy or use IGET B5000 Australia, please note these things.
Before buying
Before buying a vape, please check if you need a doctor's prescription to buy or use a vape in your area to avoid breaking the law.
Before buying a vape, please try not to go to unofficial channels to buy a low-priced vape, which may not be genuine.
Before using
Before using it, please make sure you are not allergic to the ingredients of the vape. IGET B5000 Australia's ingredients are mainly Nicotine, Vegetable Glycerin, Propylene Glycol, Glycerol, Flavor, and Benzoic Acid.
Before using IGET Rock Vape nicotine, you need to know how to use it. Here are the specific steps to follow:
Open the package of IGET Rock B5000
Confirm that the vape is not broken
Confirm that your mouth is free of foreign objects
Inhale through the mouthpiece
Exhale the smoke and enjoy the taste of the vape
IGET B5000 Review: Three Outstanding Features
IGET Rock B5000 Rechargeable
The IGET Rock Vape is an IGET vape that can be recharged, which satisfies the need to use the vape more consistently and for longer periods. This rechargeable design ensures your enjoyment until the last puff. Vapers can use a Type-c charger to charge it at the bottom charging port of the vape.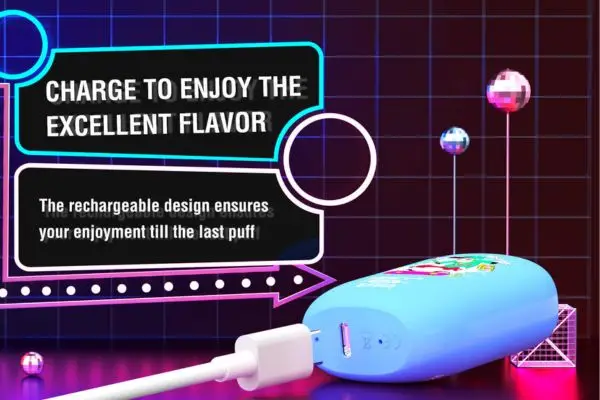 IGET Rock B5000 Mesh Coil
The IGET Rock B5000 has another big difference compared to the previous series, which is the use of a mesh coil, making the ultimate atomisation efficiency and rapid vapour production. These advantages ensure a smooth and satisfying experience, delivering the highest flavour in every puff.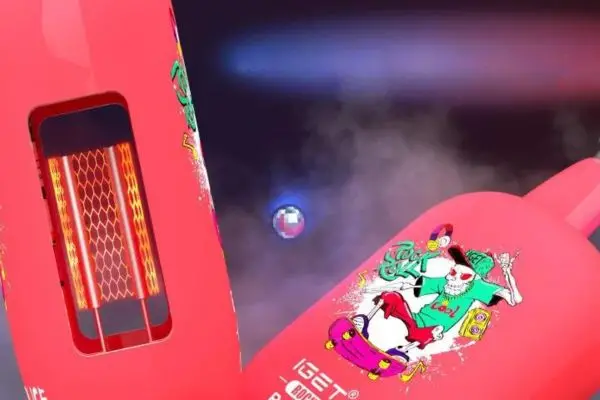 IGET Rock B5000 Flavour
The IGET Vape Rock's advanced housing design allows outside air to enter the vape evenly, resulting in a large amount of smooth and thick vapour, which is certainly the good choice for people seeking more vapour.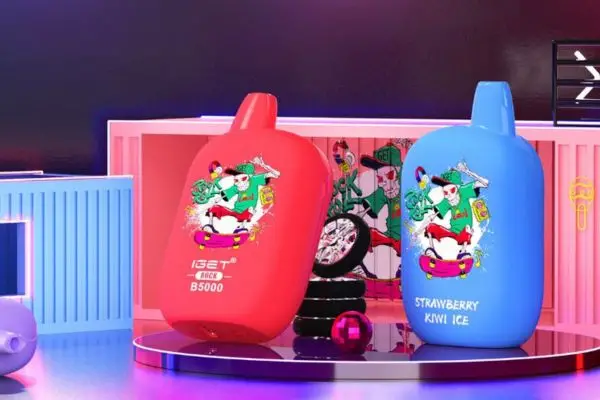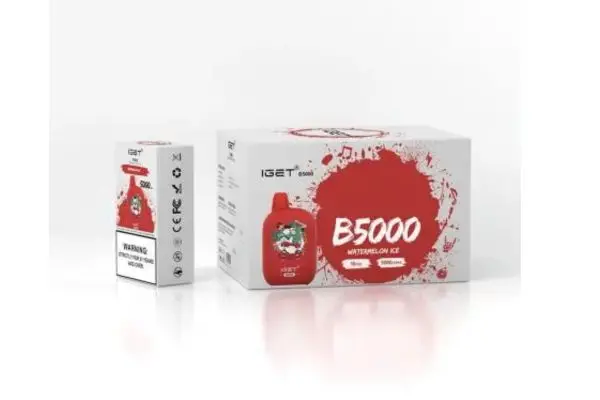 Watermelon Ice – IGET B5000
IGET Rock B5000 Watermelon Ice offers a refreshing burst of juicy watermelon with a cool icy twist, providing a crisp and invigorating vaping experience.
IGET B5000 Australia is currently on sale. Very fortunately, IGET B5000 single packs of Watermelon Ice flavour have a large discount, $5 off the usual single pack. Well worth it!
How To Charge IGET Rock Vape?
IGET B5000 is initially equipped with 10ml of vaping e-liquid. The rechargeable design allows you not to worry about the 10ml of vaping e-liquid being wasted. If you want to charge your IGET Rock B5000, all you have to do is follow these charging steps:
(Some vapers ask how long is the charge time. The answer is that after 30 to 60 minutes, the battery is fully charged)
How Long Does A B5000 Last?
Generally speaking, moderate smokers can use it for about 5 to 7 days and heavy smokers for about 3 to 5 days. The exact result varies from person to person, depending on how often you use it. For example, IGET Rock B5000 has 5000 Puffs. If you vape 1000 Puffs daily, it will only last five days.
Is The IGET B5000 Any Good?
This is the best choice for vapers looking for an IGET B5000 rechargeable vape.
Compared to other series of IGET vape, the IGET B5000 vape is rechargeable, which can fully heat every drop of vape e-liquid and guarantee the taste of every puff. Combined with the 5000 puffs of vaping, you can definitely have a longer and more flavorful vaping experience.
IGET Rock B5000 Flavours List
Strawberry Kiwi Ice
Sakura Grape
Blueberry Raspberry Lemon
Double Apple Ice
Blueberry Razz
Orange Grapefruit Lemon
Watermelon Ice
Lychee Blackcurrant
Passion Fruit Mango Ice
Strawberry Pitaya
With its range of 10 epic IGET Rock flavours, it caters to every taste bud, providing a great vaping experience that's diverse and satisfying. Different vapers may like different flavours, but many vapers still want to know the best IGET Rock flavours in the IGET B5000 review. Here, we recommend three of the most popular flavours that we hope will give you a reference.
The Double Apple flavour in the IGET B5000 Vape is a true gem with its tantalizing blend of sweet and crisp apple flavours, delivering a vaping experience like taking a bite into a fresh, juicy apple.
The Blueberry Ice flavour in IGET B5000 rechargeable vape has juicy blueberry goodness and an icy coolness that is as refreshing as a dip in the Australian surf.
Skaura Grape in the IGET B5000 Vape combines the luscious sweetness of grapes with a hint of tanginess, creating a vaping experience as satisfying as sipping on a glass of top-notch Aussie grape juice.
Price Of IGET Rock B5000
Since many vapers are very concerned about the price of the IGET B5000 rechargeable vape, we have listed all the price points of this vape in the IGET B5000 review.
The IGET Rock Vape is mainly divided into single packs and combo packs. It is mainly available in 4 price points due to the different number of products and discounts. Overall, the IGET B5000 rechargeable vape is more affordable.
Single pack: Watermelon Ice – IGET B5000 is the only flavour with a discount in the single pack, which is very suitable for vapers who want to try IGET 5000 puffs at first, while the price of other single packs is $34.9.
Combination pack: It is mainly divided into four packs and ten packs. The price for the four-pack is $129.9, and the price for the ten-pack is $309.9. The combo pack is a much better deal and is perfect for vapers who have been using vape for a long time.
IGET Bar VS IGET B5000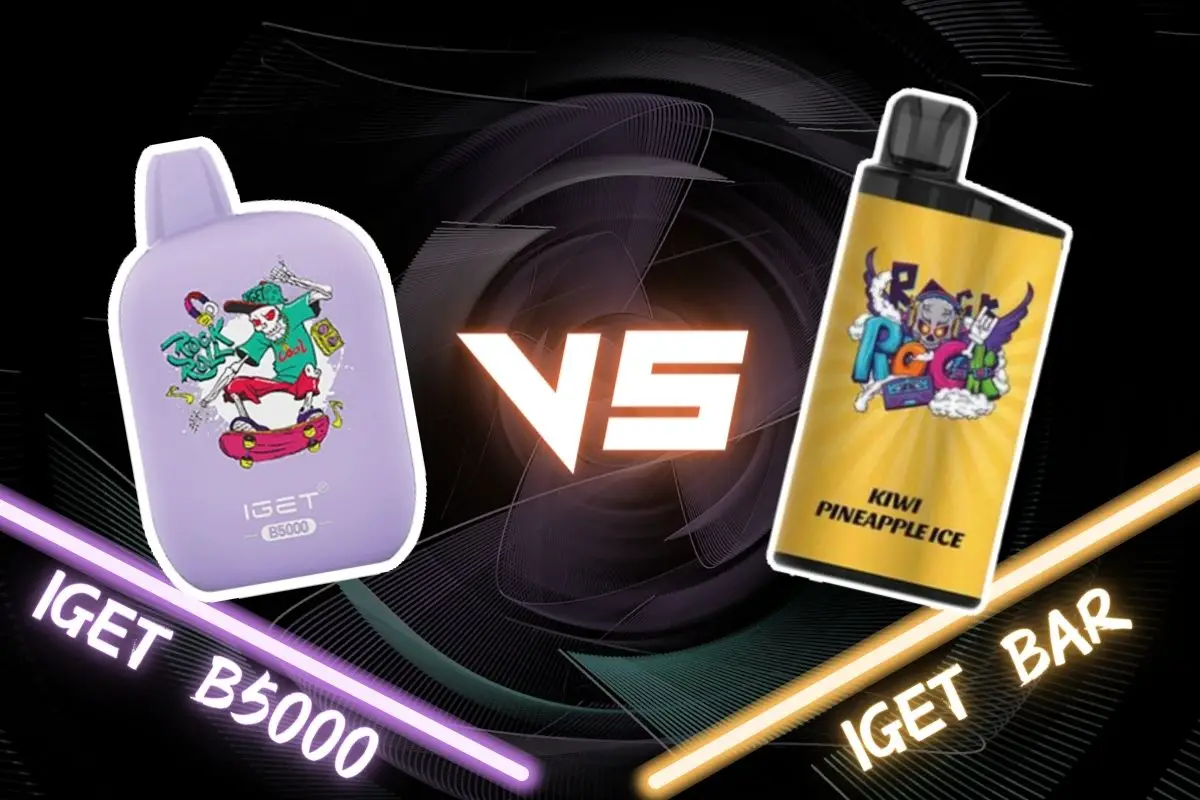 Features
IGET B5000
IGET Bar
Size
26*48*79mm
41.2*19.5*94.8mm
E-liquid Capacity
10ml (Upgraded atomization technology)
12ml
Nicotine Strength
5%
5%/0%
Battery Life
500mAh
1500mAh
Number of Puffs
5000 Puffs
3500 Puffs
Materials
PCTG1501
PC+ALU
Unique flavours
Sakuru Grape &
Strawberry Pitaya
Double Apple & Ice Cream
Rechargeable
Yes
No
Smoothness
⭐⭐⭐⭐⭐
⭐⭐⭐
IGET B5000 rechargeable vape is very similar to IGET Bar in appearance, but still different in many aspects. These advantages also make the IGET B5000 an alternative to the IGET Bar.
First, the rechargeable feature. IGET B5000 is rechargeable, IGET Bar is non-rechargeable. The rechargeable feature of the vape is one of its biggest advantages. This feature ensures that the vape is always running at a high level and can produce a lot of smoke consistently and with a smooth flavour.
Second, the number of puffs. With 5,000 puffs compared to the IGET Bar's 3,500 puffs, the IGET B5000 can serve vapers longer. IGET B5000 with 5000 puffs will last 1-2 days longer than IGET Bar with 3500 puffs.
Third, the materials. IGET Bar is made of PC+ALU material, and IGET B5000 is made of PCTG1501 material. In this respect, the plastic shell of IGET Vape B5000 will be slightly inferior compared to the hard shell of IGET Bar.
Customer Reviews
In this article of IGET B5000 review, we invited three customers to evaluate our products and here are the results of the evaluation:
Naeem UL Azeem
Customer
Stephanie
Customer
Great flavour and great customer service, responded to my email and answered any questions I had, also delivery was fast
2 months ago
Michael GOW
Customer
Very easy transaction. Excellent service!
2 months ago
IGET Rock Vape Near me
After reading this article of IGET B5000 review, I believe you have a basic understanding of the basic information, important features, flavours of IGET Vape B5000 and how it differs from IGET Bar. I hope this IGET B5000 review has been helpful to you, and please share your opinion in the comment section!
If you also want to try the reliable and enjoyable IGET Rock Vape, buying it at IGET Vape online is your best bet. They have a professional service team regarding delivery efficiency and after-sales service, and they have been well-received by vapers. Now they also offer a year of free after-sales service and some great discounts, well worth a try!
FAQ About IGET B5000
Does IGET Vape B5000 contain nicotine?
Yes, IGET Vape B5000 contains 5% nicotine content.
Is the IGET Vape Rock rechargeable?
Yes, IGET Vape Rock is rechargeable. You can use a type-c charger for charging.
Why Is The IGET Rock B5000 Vape Blinking?
When the indicator light is flashing, it indicates that your IGET Rock B5000 is out of battery and you need to charge it. When charging, the indicator light will show white or blue light continuously, please don't worry.
What is the best IGET model?
Everyone's definition of the best IGET Model is different. But so far, IGET Bar is the best selling IGET vape and IGET B5000 is the only rechargeable vape from IGET.
Related Blogs
Do you want to find the best IGET B5000 flavours? We have finally handpicked the top 5 for you based on our IGET team staff's experimentation with each flavour.
Here, we will introduce IGET Rock B5000 from the specifications, appearance, design, performance, flavours, nicotine content, charging steps, charging time and price.
What is in IGET B5000? There are 6 indispensable ingredients. Do you know what they are? If you want to know, please keep reading!