Get Your Free Gift Now!
💨 Free B5000 With Orders Over $100💨 Free Hot With Orders Over $300⏲️ Event Time: 20 -30 NOV
Unlock Your Black Friday Coupon Instantly!
Use time: 20 – 30 November
Discover hot-selling disposable vape device.
Shop our latest nicotine vape arrivals from IGET!
Find The Best IGET Flavours
Helping you gauge the best flavours!
Nicotine free IGET disposable vapes. Easy to start.
Bulk purchase and Dropship are available.
All you want to know about IGET Vapes purchase.
Elevating your vaping experience to the next level!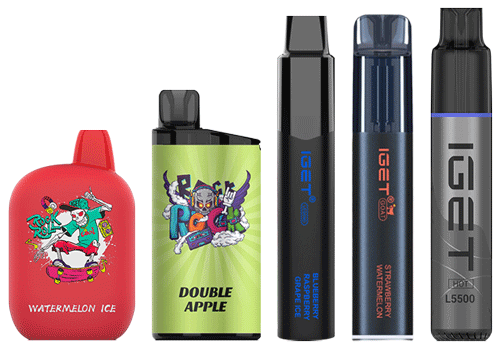 IGET is a leading brand in the vape market, founded in 2017 by Shenzhen HuaXinyu Technology Co., Ltd., a company specialising in the research, development, manufacture, and sales of electronic atomization products. The name "IGET" was established in 2019 in response to expanding market demand and growth, after a period of independent R&D. The meaning behind the brand name "IGET" is the customer's ability to "get" what they desire from the IGET offerings.
Development Journey
The sudden success of IGET can be attributed to its proactive marketing strategies, high-quality products, and excellent service.
IGET offers a range of options to suit different needs and preferences. Its key offerings include the IGET Bar Plus, IGET Bar Plus Pod, IGET Hot, IGET B5000, IGET Goat, IGET Legend, IGET Bar and IGET XXL vapes. The IGET Hot boasts a large battery size and high puff count, while the IGET Legend is a more compact and affordable option. The IGET Bar offers a quick and easy solution for those on the go, with more puffs than the IGET XXL.
The IGET is especially appreciated for its consistent quality, competitive pricing, and availability. It stands out for its neat packaging and user-friendly design of its top-selling disposable vapes. The IGET Vape's most popular flavours include Grape Ice, Blueberry Ice, Blueberry Raspberry, Strawberry Watermelon, and Mango Banana Ice.
Where to Buy IGET Vape in Australia?
As the official Australian store, we offer the most comprehensive range of IGET vaping products, all at the most affordable prices. You can find any flavour you want in our shop. However, it's important to note that Australia has strict laws surrounding the sale of nicotine-containing vapes, and it's possible to buy nicotine-based e-liquids for personal use with a doctor's prescription.
Though IGET has seen great success, the brand's future is dynamic and ever-evolving, much like the vape industry. As the safety and health effects of vaping are still being studied and debated, IGET is committed to adapting to the needs of consumers and the regulations of the market, providing quality products while prioritizing user safety.
IGET Vape Price List
IGET XXL: $19.90
IGET Bar: $29.90
IGET Legend: $32.90
IGET Goat: $34.90
IGET B5000: $34.90
IGET Hot: $36.90
IGET Bar Plus: $34.90
IGET Bar Plus Pod: $19.90
Buy IGET Vapes In Bulk
Bulk purchases can benefit from discounts:
When buying the IGET Bar Bundle (5PCS), it's only $139.90.
When purchasing the IGET Bar Box (10PCS), it's only $259.90, allowing you to save $90.
Discounts are also available for bulk purchases of other models, which additionally include free shipping.
Sign up for exclusive first looks at new products, deals, and more.