👉 Bundled Deals & Free Shipping
IGET Legend 4000 Puffs Disposable Vape
Mango Banana Ice I GET Legend is a delicious blend of tropical mango and sweet banana flavours, combined with a cool menthol finish. This flavour is perfect for those looking for a refreshing and fruity vape experience. The mango and banana flavours provide a sweet and juicy taste, while the menthol adds a cool and refreshing finish. Enjoy this flavour on its own or mix it with other fruity flavours for a unique and delicious vape experience.
Why IGET Vape?
The IGET Vape offers a smooth and satisfying vapour cloud thanks to its sleek design and easy-to-use features. The wide range of flavours ensures a taste experience to suit all tastes.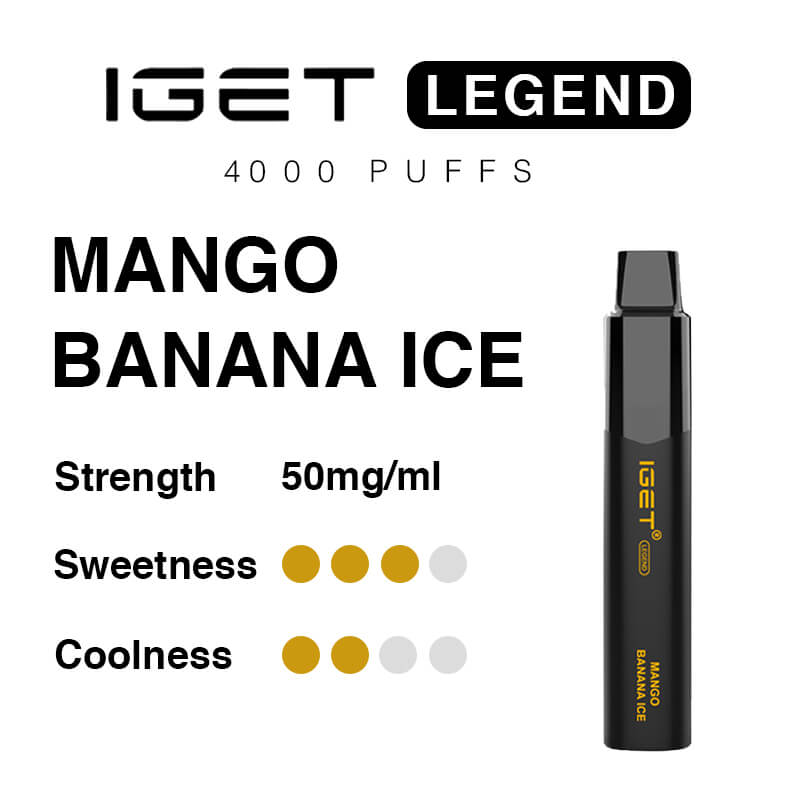 Package Content
1 × IGET Legend 4000 Puffs Disposable Vape Device
Advantage
Pre-charged (no need to recharge)
E-Juice Leak-Proofing System
Pure flavour, 23+ IGET Legend flavours
Blow on the device for activation.
Long battery life, no power drain worries
MTL vaping (more convenient)
E-Juice Leak-Proofing System
Smooth vapours & great flavours
Upgraded version of the IGET King
Flavour Series
🥭 Try the sweet and icy IGET Legend Mango collection!
🍌 Absolutely refreshing banana, learn all about the IGET Legend Banana!
🥭 🥭 You can find all IGET Mango flavours range here!
🍌 🍌 Buy all the IGET Banana flavour series!
Frequently Asked Questions