👉 Bundled Deals & Free Shipping
IGET Legend 4000 Puffs Disposable Vape
Passion Fruit Mango Ice IGET Legend Vapes is a delicious blend of tropical fruits that will tantalize your taste buds. This flavour combines the sweet and tart notes of passion fruit with the juicy and refreshing taste of mango, and it all finished off with a cool menthol kick. This flavour will keep you feeling refreshed and energized. Enjoy the exotic taste of passion fruit and mango with a cool menthol finish that will leave you wanting more.
Why IGET Vape?
The IGET Vape offers a smooth and satisfying vapour cloud thanks to its sleek design and easy-to-use features. The wide range of flavours ensures a taste experience to suit all tastes.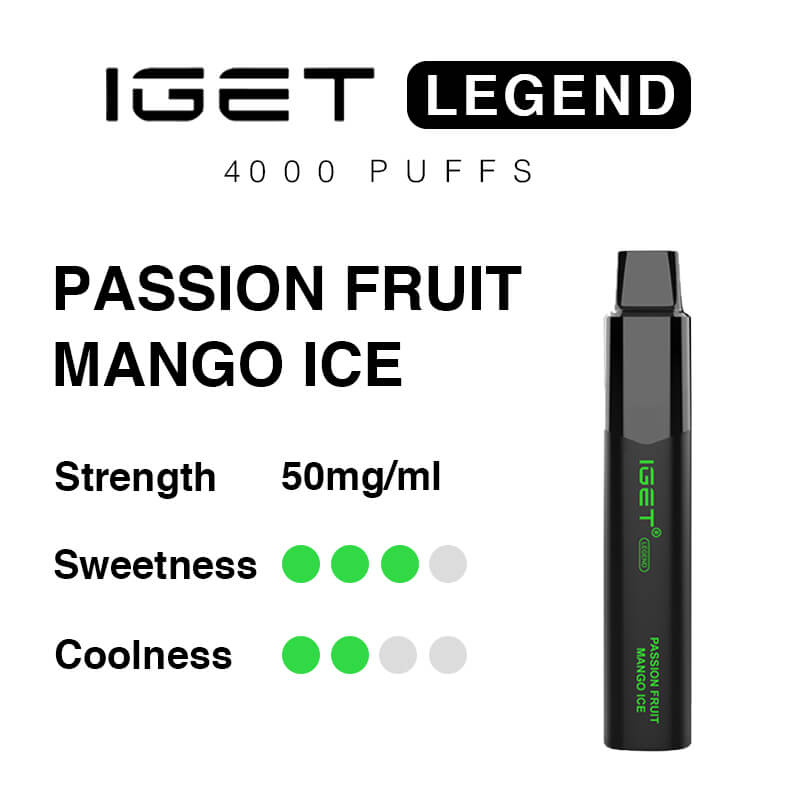 Package Content
1 × IGET Legends Vape 4000 Puffs Disposable Vape Device
Advantage
Pre-charged (no need to recharge)
E-Juice Leak-Proofing System
Pure flavour, 23+ IGET Legend flavours
Blow on the device for activation.
Long battery life, no power drain worries
MTL vaping (more convenient)
E-Juice Leak-Proofing System
Smooth vapors & great flavours
Upgraded version of the IGET King
Flavour Series
🥭 Try the sweet and icy IGET Legend Mango collection!
👉 Passion for Passion Fruit? Check out our Passionfruit IGET Legend range!
🥭 🥭 You can find all IGET Mango flavours range here!
👉 You can find all IGET Passionfruit flavours here!
Frequently Asked Questions