👉 Bundled Deals & Free Shipping
IGET Legend 4000 Puffs Disposable Vape
Orange Melon Lemon IGET Legend vape is a unique blend of sweet and tart citrus flavours, combined with the smooth and juicy sweetness of the melon. This flavour offers a bright and refreshing experience, with a hint of tropical fruits that make it perfect for vaping.
Why IGET Vape?
With a diverse range of cutting-edge devices and flavours, IGET Vape caters for every vaper's needs. From stylish design to reliable performance, our products offer an unparalleled vaping experience.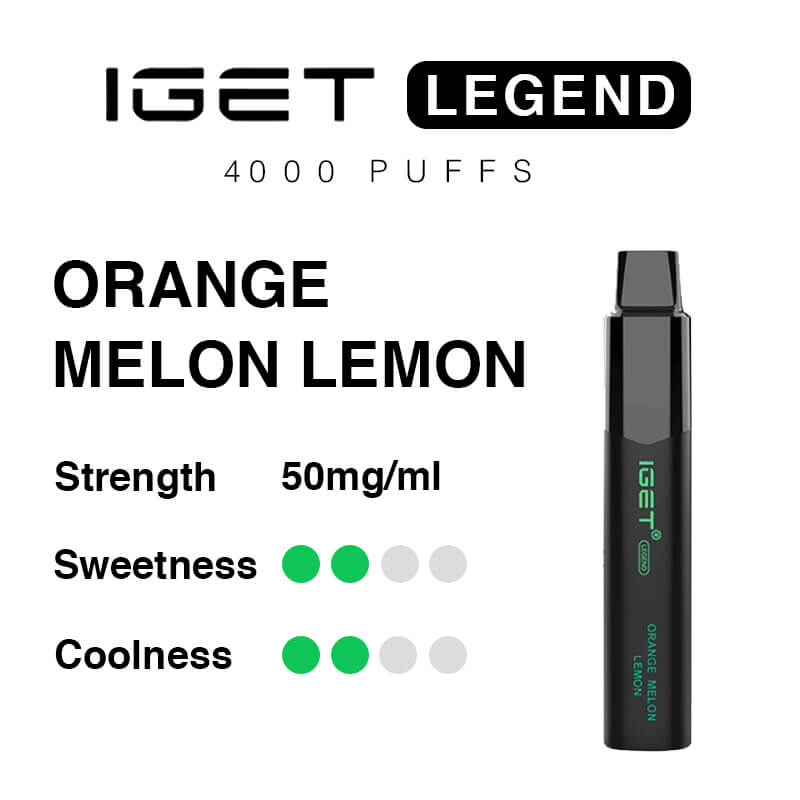 Package Content
1 × IGET Vape Legend 4000 Puffs Disposable Vape Device
Advantage
Pre-charged (no need to recharge)
E-Juice Leak-Proofing System
Pure flavour, 23+ IGET Legend flavours
Blow on the device for activation.
Long battery life, no power drain worries
MTL vaping (more convenient)
E-Juice Leak-Proofing System
Smooth vapors & great flavours
Upgraded version of the IGET King
Flavour Series
🍊 If you like oranges, then you might also like other IGET Legend Orange flavours!
🍈 Melon flavours? Click on the IGET Legend Melon flavours series if you like.
🍋 With challenging lemons, get your IGET Legend Lemon collection today!​
🍊 🍊 Don't miss the IGET Orange flavours!
Frequently Asked Questions