Are you still on the hunt for the best IGET Legend flavours of 2023? Look no further! We have compiled the popular flavours list based on our extensive statistics. Check it out!
Blackberry Ice
Grape Ice
Blueberry Raspberry Grape Ice
Plain Coffee
Mango Banana Ice
In this blog, I will dissect the five best flavours in detail. I have prepared a detailed IGET Legend flavours chart for you to demonstrate why these five flavours can reign supreme.
Introduction
Before reading the blog, let's outline our approach. Our list of the IGET Legend best flavours isn't based on personal preference but on thorough, data-driven analysis.
We've combed through Google search data, analysed sales figures from retailers and wholesalers, and examined forum discussions.
Best IGET Legend Flavours Ranked By Search And Sale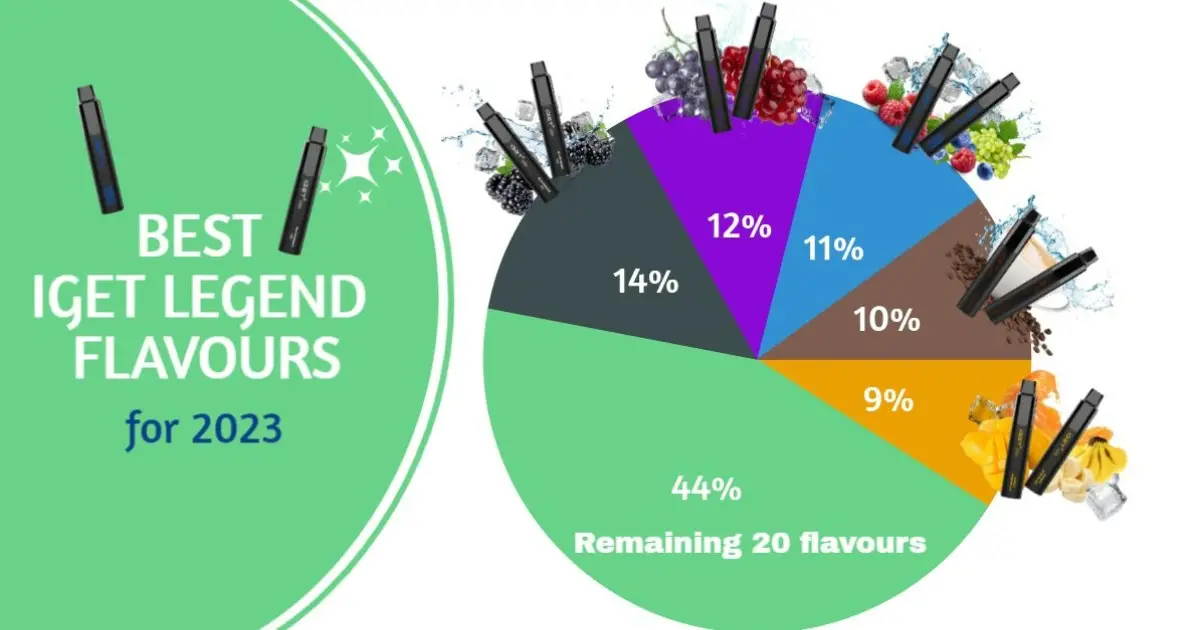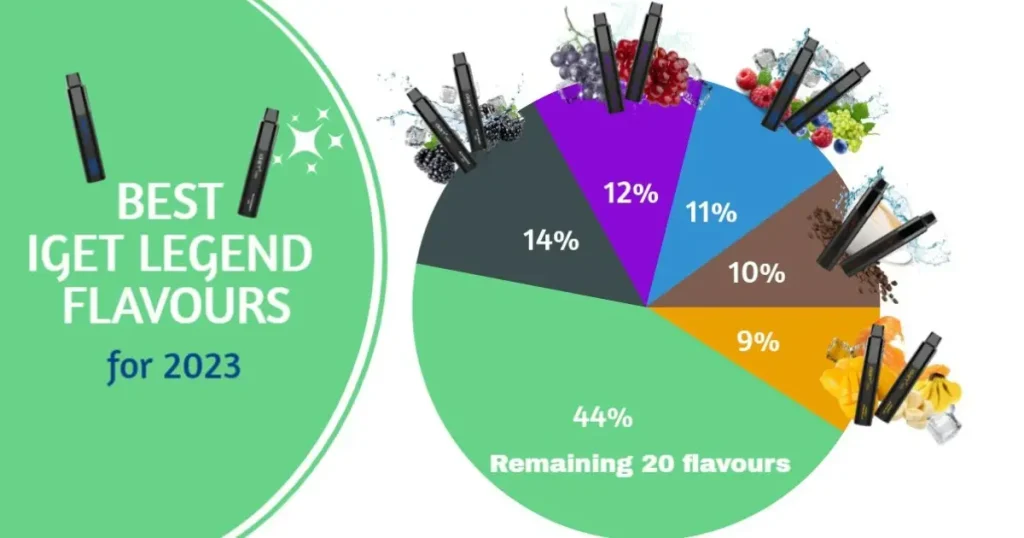 Here are the top 5 contenders for the title of best IGET Legend flavours ranked:
Blackberry Ice
Grape Ice
Blueberry Raspberry Grape Ice
Plain Coffee
Mango Banana Ice
The source of this data was taken from Ahrefs, which reflects the number of searches for specific flavours by vapers each month.
Overview
Blackberry Ice, with its unique blend of sweet-tart blackberry and refreshing menthol, is arguably the top flavour in the IGET Legend range and among the best
IGET Vape flavours
.
The ultimate smooth vaping experience
Suitable for all vapers
Best selling
Long lasting flavour
Overview
Grape Ice dazzles with its blend of sweet-tangy grape notes, superbly offset by a cool menthol rush. An exquisite balance of sweetness and refreshing chill, it offers a fulfilling vape that's not too intense.
Smooth vaping experience
Best flavours for entry-level
Second in sales
Sweet and chilled
Overview
Blueberry Raspberry Grape Ice flavour starts with a sweet blueberry note that transforms into a slightly sour raspberry on the exhale. A hint of grape adds depth to the mix, and the icy menthol keeps everything light and refreshing. The result is a vape that's not just fruity but well-layered and surprisingly nuanced.
Three combinations of flavours
Sweet and sour
A soft throat hit
Difficult to distinguish the main flavours
Overview
Unlike other coffee vapes that tend to lean on the sweeter side, Plain Coffee focuses on delivering a strong, authentic coffee flavour that's slightly bitter and incredibly satisfying.
The balance between the natural bitterness of coffee and the subtle sweetness makes Plain Coffee an all-day vape for anyone seeking comfort in a classic cup of Joe.
IGET vape exclusive flavours
Optimum sweetness and coolness
Strong throat hit
May not be suitable for everyone
Overview
As you exhale, a cool rush of ice envelops these flavours, making it feel like a tropical smoothie on a hot day.
The fruit flavours are bright and authentic, with the mango and banana complimenting each other without overpowering. The icy finish makes this flavour incredibly refreshing and perfect for those hot summer days.
Sweet and sour
The best legend flavours choice for sweet lovers
Smooth throat hit
Best IGET Vape Flavours From IGET Australia
The IGET Vape Australia team has also customized a list of the best flavours for other popular models. Here is a list of the best IGET vape flavours for 2023. If there are any other best flavour lists you would like to know about, stay tuned with us!
Verdict
The best IGET Legend vape flavours that stood out – Blackberry Ice, Grape Ice, Blueberry Raspberry Grape Ice, Plain Coffee, and Mango Banana Ice – offer an exemplary mix of sweet, tart, and icy sensations. Each delivers a unique and immersive vaping experience that speaks to the quality and innovation of IGET Legend vapes.
Moreover, our ingredient analysis confirms that IGET Australia uses high-quality, food-grade ingredients in its products, offering peace of mind for the discerning consumer.
Remember to vape responsibly, and stay tuned to our blog for more comprehensive reviews and the latest updates in the world of vaping. Until next time, happy vaping!
FAQ
What is the best Flavour of IGET?
The Grape, Strawberry, Blackberry and Watermelon flavours are the best IGET vape flavours.
What are the new legend flavors 2023?
Blackberry Grape Pomegranate, Blue Raspberry Passion Fruit Orange, Watermelon Blackberry Raspberry, Kiwi Blue Raspberry, and Melon Strawberry Cherry are the latest IGET Legend flavours in 2023.
What Are The Best IGET Bar Vape Flavours?
Grape Ice, Blackberry Ice, and Double Apple are the best IGET Vape Bar flavours in 2023.
What Are The Best IGET Goat Flavours?
Blackberry Raspberry Ice is the best IGET Goat vape flavour.
How long does IGET Legend last?
IGET Legend can provides 4000 puffs, and it can last 7 day for vaping.
Related Blogs
Today, we're diving into a comprehensive analysis of the 10 best IGET Bar flavours, all based on extensive data gathered from Google searches.
To find the best IGET Bar Plus flavours, I analyzed survey rankings and sales data. The best flavours among vapers were those that ranked highly in both areas.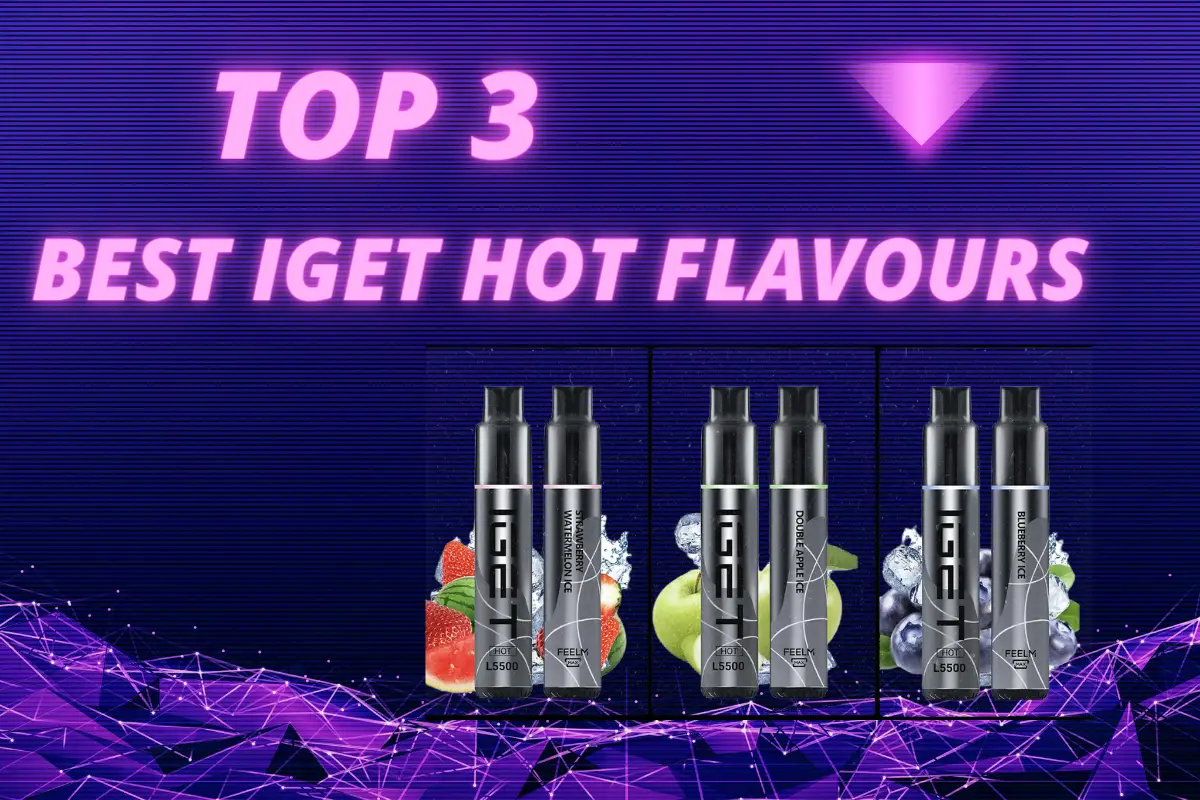 We've done the research and analyzed data from the IGET Vape online shop to provide you with the best IGET Hot flavours that customers love the most.