Have you ever wondered what the best IGET Bar flavours are? Today, we're diving into a comprehensive analysis of the top 10 flavours, all based on extensive data gathered from Google searches.
Strawberry Watermelon Ice – best flavour
Ice Cream
Blackberry Ice
Grape Ice
Strawberry Raspberry
Strawberry Kiwi Ice
Double Apple
Cherry Blueberry
Lush Ice
Mango Ice
In this comprehensive review, we will break down what is IGET Bar best flavour in 2023.
Introduction
IGET is the most popular brand in Australia. As the top choice for disposable vape, IGET Vape Bar offers a wide array of flavours. It's hard to pinpoint a single popular flavour—preferences vary!
Today, we'll explore the most sought-after IGET Vape Bar 3500 flavours based on user searches and sales data. Curious to find out more? Let's dive in!
10 Best IGET Bar Flavours According To Search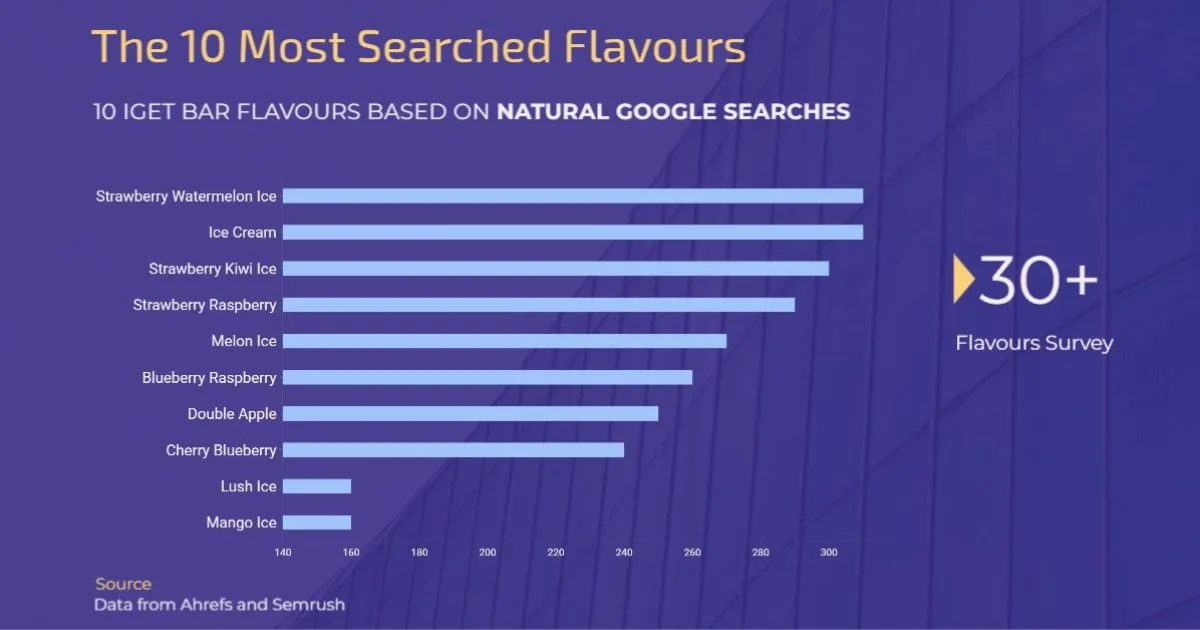 There's a wealth of flavours to explore regarding IGET Bar 3500 puffs vape, and the preferences of vapers across Australia differ significantly.
We've looked at the data and rounded up the top 10 most searched for the IGET Bar best flavours. These are the flavours that people are actively seeking out. Here they are:
Strawberry Watermelon Ice (310 searches)
Ice Cream (310 searches)
Strawberry Kiwi (300 searches)
Strawberry Raspberry (290 searches)
Melon Ice (270 searches)
Blueberry Raspberry (260 searches)
Double Apple (250 searches)
Cherry Blueberry (240 searches)
Lush Ice (160 searches)
Mango Ice (160 searches)
Based on Google data, we've also discovered that the IGET vape flavours in the Strawberry range generate approximately 2.5K searches per month, further highlighting their popularity.
This data stems from Ahrefs, which correlates directly with specific Google searches, suggesting that users are eager to learn more about these distinct flavours.
While these top 10 flavours could represent the best IGET Bar flavours, it's also feasible that people are simply curious about them, and their search doesn't necessarily equate to preference.
Then we will provide a list of the various IGET Bar vape flavours for sale on the IGET Vape online shop. It might be more convincing, so please read on.
10 Best Selling Flavours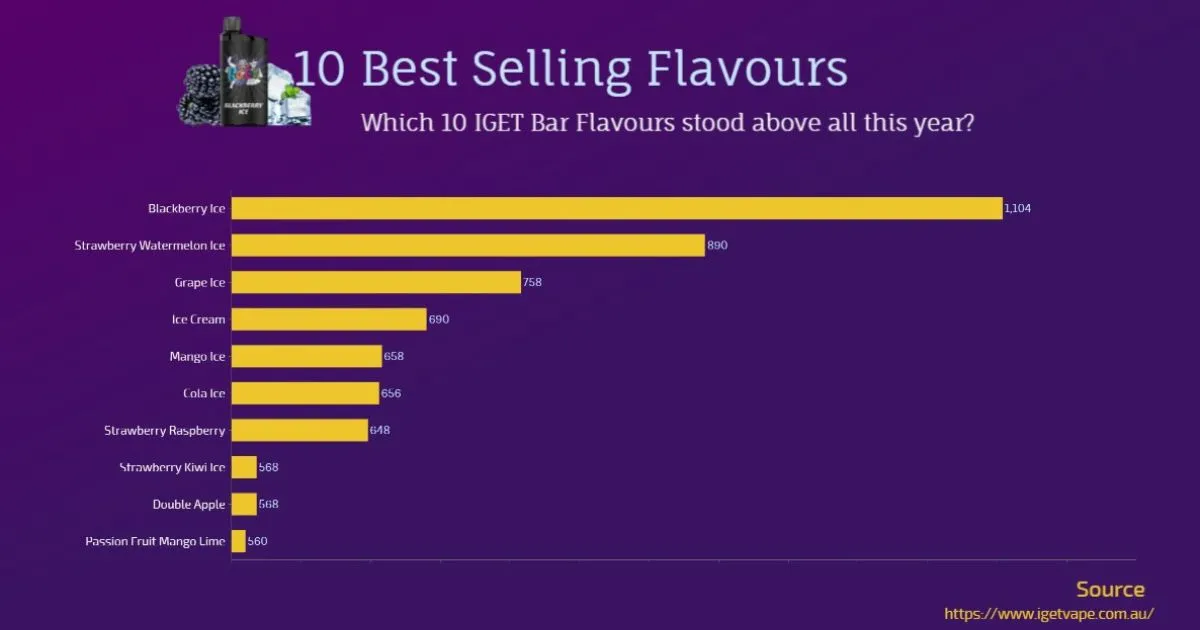 While search popularity offers us some insights, the real proof lies in the sales numbers. Based on the IGET Vape Shop data, here are the top 10 best-selling IGET Bar 3500 flavours.
Blackberry Ice – 1104 units sold
Strawberry Watermelon Ice – 890 units sold
Grape Ice – 758 units sold
Ice Cream – 690 units sold
Mango Ice – 658 units sold
Cola Ice – 656 units sold
Strawberry Raspberry – 648 units sold
Strawberry Kiwi Ice – 568 units sold
Double Apple – 568 units sold
Passion Fruit Mango Lime – 560 units sold
These sales figures not only reflect what flavours users are buying, but they may also provide some insight into what the best IGET Bar flavours might be worth trying next. After all, they are popular for a reason!
So, what would happen if we cross-referenced these search queries with the actual sales figures from the online shop?
10 Best IGET Bar 3500 Flavours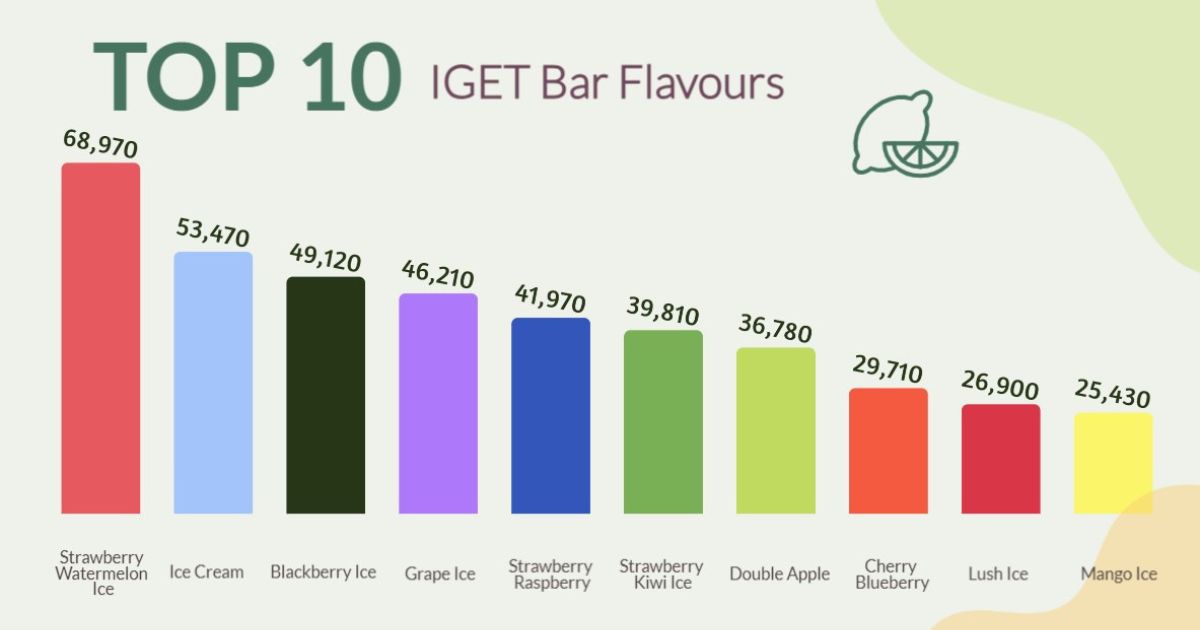 Taking both search data and sales data into consideration, we've arrived at the following list of the top 10 flavours:
These flavours have demonstrated their popularity both in terms of how often they are sought out by users and how frequently they are actually purchased.
But remember, flavour preference is deeply personal. It's like how I have an unshakeable preference for the Cola Ice IGET Bar. It's unrivalled and holds the top spot in my heart. Just as every individual has their favourite colour or song, e-cigarette users have their preferred flavours.
IGET Bar Price In Australia
After learning about the top 10 flavors, you should have found your favorite flavor, and below the IGET Australia team is offering you the best deal on purchasing an IGET Bar, as shown below!
Best IGET Vape Flavours
The IGET Vape Australia team has also customized a list of the best flavours for other popular models. Here is a list of the best IGET vape flavours for 2023. If there are any other best flavour lists you would like to know about, stay tuned with us!
Verdict
Did you find the best IGET Bar flavours for you in this list? So, while this list offers a snapshot of current trends and preferences, choosing a flavour based on your personal preferences is important. You may find that your number one flavour doesn't feature in this top ten list, and that's perfectly okay! After all, the best IGET Bar flavours are the ones that you enjoy the most.
Whether you're an experienced vaper or a newcomer to the world of disposable vapes, don't be afraid to explore the wide range of flavours on offer and find the one that's the best fit for you. You may just discover your new favourite IGET Vape Bar flavour. Happy vaping!
FAQ
Does IGET Bar Have Nicotine?
Yes, the IGET Bar has a nicotine level of 5% (50mg/ml), but you can also choose a nicotine-free Bar Vape, but only in 10 flavours.
What Is The Best IGET Legend Flavours?
What Is The Best Flavour Of IGET?
Blackberry Ice and Grape Ice are the best IGET flavours, almost all IGET vapes have these two flavours.
What Flavour Is The Black IGET Bar?
Black IGET Bar is a Blackberry Ice flavour.
What Does The Black Vape Taste Like?
Black flavour is Blackberry Ice, it combines the sweet and sour notes of fresh blackberries with a minty finish, creating a refreshing aftertaste that's hard to resist.
How Many Flavors Of IGET Bar Are There?
IGET Bars have 31 flavours. You can view it at www.igetvape.com.au.
Is The IGET Ice Cream Flavour Good?
Yes, Ice Cream is one of the best IGET Bar flavours.
Related Blogs
Are you still on the hunt for the best IGET Legend flavours of 2023? Look no further! We have compiled the popular flavours list based on our extensive statistics. Check it out!
To find the best IGET Bar Plus flavours, I analyzed survey rankings and sales data. The best flavours among vapers were those that ranked highly in both areas.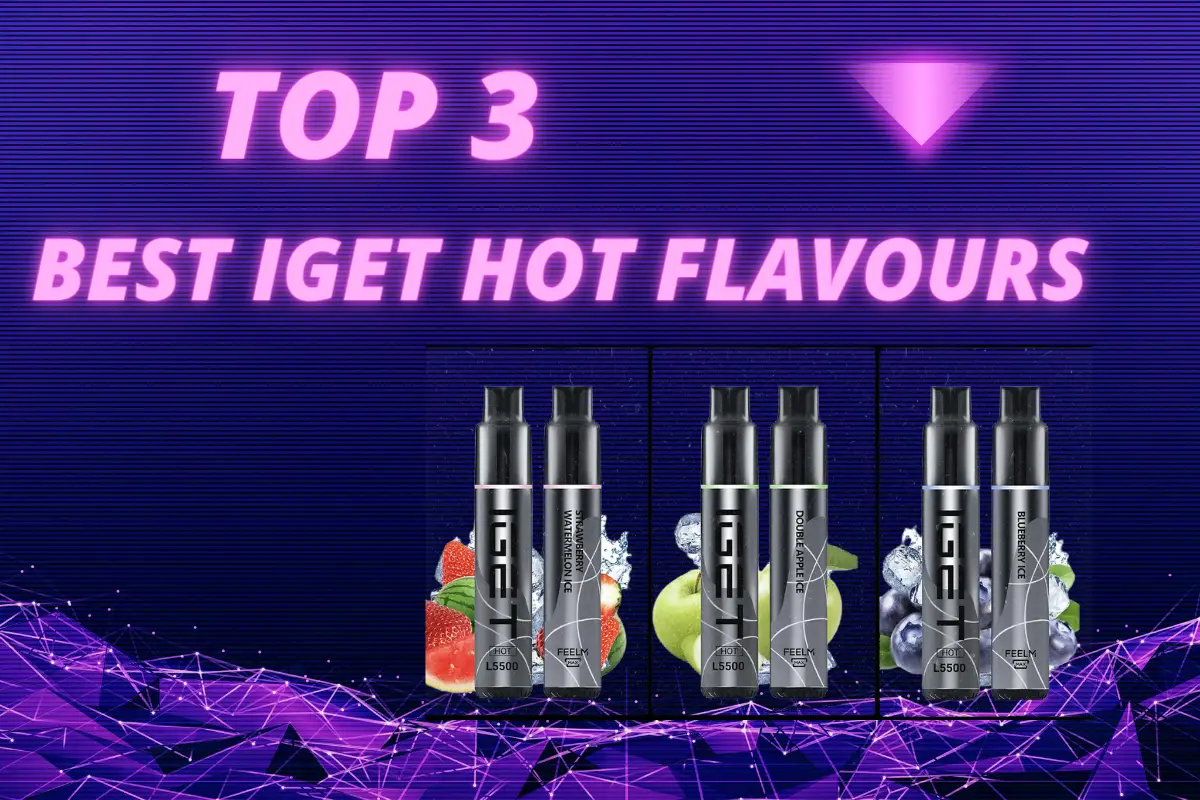 We've done the research and analyzed data from the IGET Vape online shop to provide you with the best IGET Hot flavours that customers love the most.